The Best Way To Lose Fat Quickly
Unfortunately, there is no "best way to lose fat quickly" – what works for one person may not work for another. Each person has a unique metabolism, which means everyone burns fat in a slightly different way.
Regardless of the differences in metabolism, there is one rule that holds true for everyone – physical activity burns calories. Not all types of physical activity are the same, though. A low intensity workout will not burn as many calories as a higher intensity workout, for example, but a low intensity workout is easier to maintain for longer periods.
While one training program could never work equally for everyone, there is one strategy everybody can use to burn more calories: develop a lifestyle that includes good nutrition and regular exercise.
3 Most Important Aspects of Losing Fat and Keeping it Off
Nutrition, exercise, and consistency are the three most important aspects of losing fat the most efficient way and keeping it off.
Nutrition
Consistent nutrition is essential for losing fat and keeping it off. What you eat fuels your body. Putting food in your body is the same as pumping gas into a high performance race car – the quality of your performance depends largely on the fuel you burn. Also, avoid sugar as much as possible. Sugar stimulates the production of insulin, which is the hormone that allows muscles and fat cells to absorb that sugar from the blood. The cells use whatever sugar they need for instant energy then store the rest as fat.
Insulin causes fat cells to take in sugar and high insulin levels lock fat into fat cells that make it hard for the fat to leave the cells; however, low insulin levels unlock the cells and allow fat to leave, which makes the fat available to the body to burn as fuel. Low insulin levels are, therefore, better for burning fat than are high levels of insulin.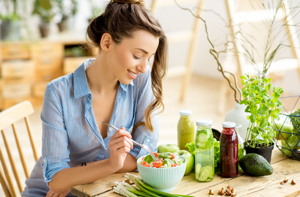 Pump up the protein! Protein can boost your metabolism and reduce appetite. Research shows that people who eat a high protein diet plan felt "fuller" throughout the day and were less preoccupied with thoughts of food. Protein also controls cravings and curbs your desire for late-night snacks. One study even showed an inverse relationship between protein and belly fat – this means high protein intake equals low belly fat.
Even vegans, vegetarians, and those trying to cut down on their meat consumption can increase protein intake. Peanuts and peanut butter, edamame, tofu, lentils, black beans, lima beans, wild rice, chickpeas, and almonds all contain ample protein.
What about starchy carbs? Cut them! Carbohydrates are organic compounds, such as sugars, starches, gums, and celluloses that occur naturally in living tissues and food. The human body deals with each type of carbohydrate differently. Sugary carbohydrates cause a quick spike in blood sugar and insulin, for example, while starchy carbs cause a sustained rise in insulin.
Carbohydrates are your body's most important source of energy, so some carbs are an essential part of a healthy diet. Although, some are healthier than are others, you can simply replace unhealthy carbs with healthier choices to maintain a low carb diet. For example, opt for unprocessed or minimally processed whole grain bread instead of white bread or pastries, or pile on the vegetables and fruit instead of going for extra bread.
Another good idea is to fill up on fiber. Fiber is an indigestible material that provides the structure for the leaves, stems, and seeds of plants. Because it is indigestible, fiber provides no calories – basically, fiber takes up space as it moves through your digestive tract, so you feel fuller without eating excess calories. Fiber speeds up digestion too, so your body has less time to absorb calories from the rest of your meal.
Many fruits and vegetables contain fiber. White, black, kidney, and garbanzo beans are high in fiber, as are avocados, pears, artichokes, and raspberries. Whole grain breads and pastas are also high in dietary fiber.
Exercise
Want to know how to lose weight fast? Exercise! Staying active is essential for losing fat. A regular exercise routine helps you lose and maintain weight loss, increase metabolism, and increase lean muscle mass. One study shows that aerobic exercise alone – without a restricted calorie diet – can result in clinically significant weight loss.
When you exercise, your muscles use the energy gained from breaking down fat and carbohydrates. Fat supplies more energy than do carbs – 9 calories per gram for fats and 4 calories per gram for carbohydrates – but metabolizing fat is a slower process. Your body burns fat as a fuel source when you take a brisk walk or a slow jog, but burns a combination of fat and carbohydrates during higher-intensity exercise.
Exercise also triggers the release of epinephrine and other hormones into your bloodstream. Epinephrine prompts the breakdown of stored fats and triggers their release into the bloodstream as fatty acids; muscles absorb the fatty acids for use as energy.
To unlock the fat-burning potential of your exercise routine, engage in activities that allow you to maximize fat and carbohydrates metabolism. Keep in mind that the more muscles you use, the more calories and fat you will burn. Use exercise equipment that allows you to vary your workout to stimulate more muscle activation and stability like the ProForm® Pro 2000. This treadmill as the "power of incline" – 2x the calorie burn. Exercising on a ProForm® burns more calories while improving real-road conditioning and boosting cardio endurance, particularly if you change up your routine. Instead of just walking or jogging on the the treadmill, perform a side shuffle, backwards walk, forward lunge, or forward skip.
Consistency
Consistency is the best-kept secret to burning fat. People tend to be impatient while trying to lose fat – they want instant results, so they turn to crash diets and fad exercise programs. Unfortunately, many of these programs are unsustainable and many people quit after just a few days. Worse still, starving yourself will not help you lose weight – starvation diets may even make you gain weight.
Consistency helps you lose weight slowly but steadily; research shows that this slow-but-steady consistent approach can be more beneficial than seeing your weight drop quickly, only to rise again. The researchers studied 183 overweight or obese adults participating in a weight loss program for one year. The scientists found that the subjects who lost weight consistently in the beginning of the program lost more weight by the end of the program.
Losing fat and keeping it off in a healthy manner is a slow process, but a meaningful one. Sticking with a consistent diet and exercise program provides better results in the long run, and reduces your chances of falling off the fat-loss wagon. Incorporating a healthy diet and regular exercise into your everyday life can keep the fat off forever.
Sources:
www.nih.gov
www.ncbi.nlm.nih.gov
nutritionandmetabolism.biomedcentral.com
www.ncbi.nlm.nih.gov/pmc
onlinelibrary.wiley.com