Simple Chicken Salad Without The Loaded Calories
Don't you wish you could enjoy your favorite foods without the crazy amount of calories that come along with them? What's the point of working out so hard in the gym to burn off all those calories for you to eat them right back in one meal? Well, you can thank iFit®, for making it possible to stay on track at the gym AND in the kitchen – bringing you healthy recipes that'll not only be good for you, but will also help fuel you for your workouts. Like this fan favorite, the Skinny Chicken Salad.
Skinny Chicken Salad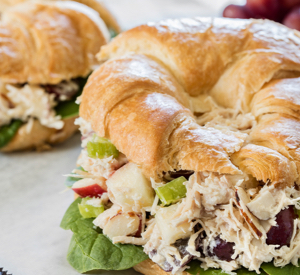 Makes 5 servings
Serving size: 1 cup
Ingredients:
25 ounces canned chicken (in water), drained
½ cup nonfat, plain Greek yogurt
1 cup celery, diced
1 cup apple, diced
⅔ cup grapes, halved
¼ cup shredded almonds
1 teaspoon lemon juice
¼ teaspoon salt
⅛ teaspoon black pepper
You can find cooking directions and nutritional facts here.
Sources: