Weight Training For Beginners
Weight training has many benefits in helping you strive to be the best you. Not only will it help you lose that stubborn weight and burn more calories, but it includes many health benefits such as reducing blood pressure, protecting your bone health, increasing coordination as well as balance just to name a few.
We have taken out the guesswork for you and compiled a short beginner's weight training workout for you to try:
• 10-12 reps for muscular strength and muscular endurance.
• Proper form is most important. Do not increase weight or reps if it compromises your form.
• Choose a weight that really challenges you during the last 2-3 reps. As you get stronger be sure to increase your weight to avoid muscular plateaus.
• Complete all 5 exercises then repeat 2-3 more times for a complete workout.
• Total body workouts should include all primal movement patterns such as push, pull, squat, lunge, bend, and rotation. This is functional total body training!
Side Note: If you want to increase your calorie burn during this workout, you can couple each exercise with 30 seconds of jumping jacks or jump rope to keep your heart rate up. The combination of strength and cardio makes for a true total body workout, not to mention a killer calorie burn!
Wall Sit With Overhead Shoulder Press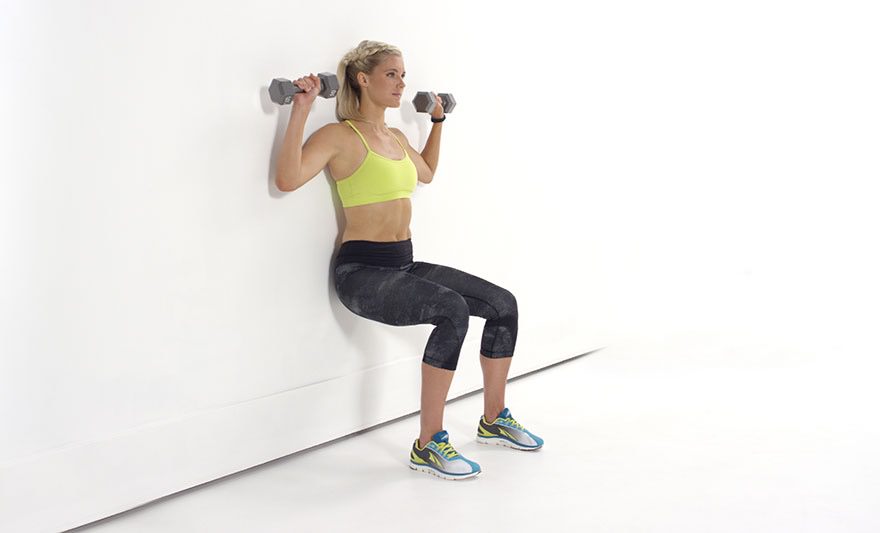 Side Note: The biggest muscles in the body are found in our legs. When we include these powerful muscle groups like the hamstrings, quads, and glutes into our workout, the calorie burn increases drastically.
How to perform with excellent form:
1. Sit against a wall with a 90 degree angle at the knee and the hip as if you were sitting in a chair.
2. Feet flat on the floor making sure your knees stay behind the toes.
3. Place your entire back up against the wall including your shoulder blades.
4. Brace through the abdominal wall, activating your 8 pack.
5. Bring your arms out to the side beginning with a 90 degree angle at the elbow.
6. Press the dumbbells straight overhead tapping the dumbbells at the top.
7. Return to a 90 degree angle at the elbow and repeat.
8. Perform 10-12 overhead shoulder presses before standing up out of the wall sit.
Video:
Low To High Woodchops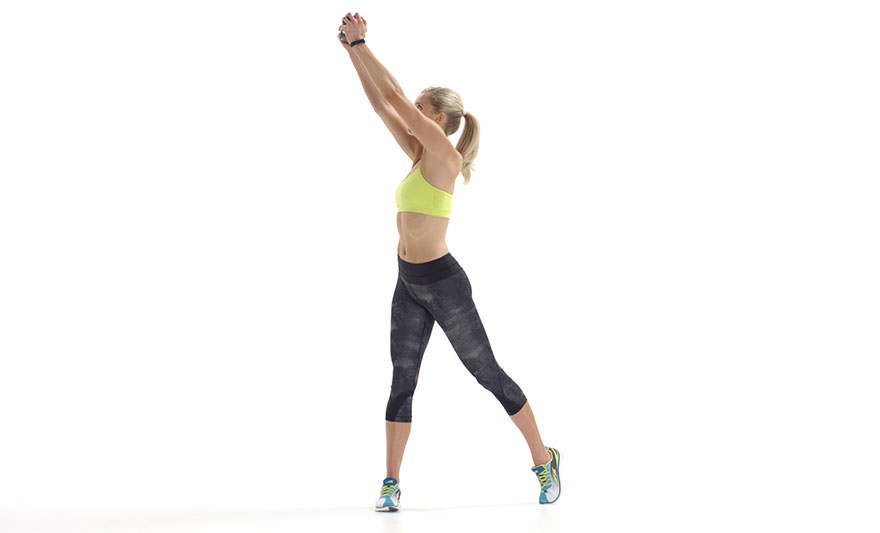 Side Note: Rotation is the key to our power and a big part of our daily activity. It's important that we train rotation in our workouts. 90% of Fitness programs neglect this important primal movement.
How to perform with excellent form:
1. Rotation and power are the key to a great woodchop.
2. Keep a tall spine as you bend at the knee and hip to create a squat.
3. With straight arms, bring the dumbbell outside of the knee.
4. Allow your feet to naturally pivot as you explode powerfully to the opposite top corner of the body.
5. Rotate through the mid thoracic spine or "mid-section".
6. Return to the start position.
7. Complete 10-12 reps on each side.
Video:
Bent Over Rows

Side Note: Working the muscles in the back and doing exercises that open up and stretch the chest are extremely important to overall muscular balance and avoidance of injury. The majority of individuals today spend a lot of time at computers, hunched over a phone, sitting at desk, etc. All of these activities lead to forward shoulder and forward head syndrome. Exercises like dumbbell rows help to strengthen the muscles in the back and bring balance to the body by combating these postural deviations.
How to perform with excellent form:
1. Stand shoulder width apart, take a slight bend at the knee, and hinge over at the hips.
2. Create a nice flat back maintaining length in the spine.
3. With palms facing each other, start with straight arms right in front of your chest.
4. Pull the weights to your ribs, keeping your elbows close to your body.
5. Squeeze through the shoulder blades to get the best contraction at the top of the movement.
6. Allow the arms to return to start position with a controlled slow movement.
Video:
Weighted Forward Lunge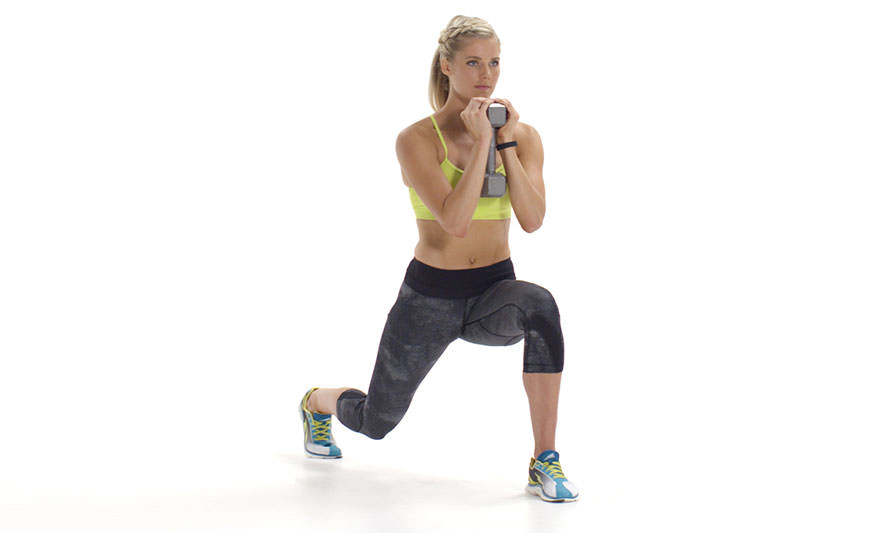 Side Note: Anytime you can combine two exercises to perform what is called a "compound movement" GO FOR IT! Compound movements increase calorie burn, improve coordination, connection, and make for an overall more efficient workout.
How to perform with excellent form:
1. Start by standing tall with the dumbbells down by your side.
2. Alternate a forward lunge by taking a large step forward, allowing the back knee to come down towards the floor, and the front knee forming a 90 degree angle.
3. The forward knee must stay behind the front toe.
Video:
Push Ups

Side Note: A push up is a great strength builder for the upper body, but it is also an effective exercise to strengthen the abdominal wall. This exercise can be progressed from the knees to the toes.
How to perform with excellent form:
1. Begin with your hands flat on the floor a little wider than shoulder width apart.
2. Come to your knees and maintain a straight line from your knee to your hip without any bend at the waist.
3. Activate your abdominal as you bend at the elbow and lower your body towards the floor.
4. It is very important to lead with your chest and not with your forehead.
5. Push away from the floor back to starting position.
Video:
For an effective weight training workout, reliable equipment is recommended. See Weider for great deals on workout equipment.
Sources: