Closure, Connection, and Community: What We Learned from the Boston Marathon
Following an eventful Boston Marathon, runners pack up their gear, board their flights, and head back to regular life. Now, three marathoners from our ProForm team share what they loved about Boston this year, the hardest part of training, and what running teaches them.
What was your favorite part of running in Boston this year?
Eric Shipley
"I would have to say the spectators were my favorite part of Boston this year. Over a million spectators came and watched the race. It was just amazing to see how much support came out for the city. After last year, I think it was expected that there would be a great show of support. But it was amazing that there were that many people along the race route.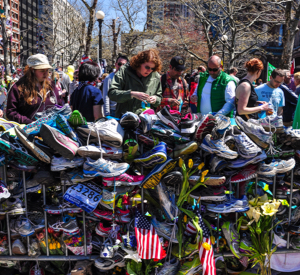 I think for a lot of runners, the marathon was very personal. I think it was important for the running community to come out and show resilience. It was less about individual performance and more a show of solidarity and being a part of something a lot bigger."
Becca Capell
"I loved being part of such a huge race in history. Coming off the bombings last year, this race really was the running community coming together. There was so much support this year. I was amazed at the number of spectators and their signs: "Taking Back Our Finish Line," and "This Is Our City." There were a lot of supportive messages coming through that the running community is strong and that we were all in it together.
I also loved the people there. I met a guy who was running his 1300th marathon. I read an article about him later because I didn't even know that was possible. It was really inspiring."
Alex Ipsen
"I ran last year, and we were stopped at 26 miles. We were just about to turn on Boylston Street when the bombs went off. So, my favorite part this year was being able to go back, experience it, have an enjoyable day, and cross the finish line. It was pretty amazing. There were thousands of more runners this year. And it felt like double the spectators. The entire 26.2 miles was covered with people. You don't have to listen to music; you just listen to the people cheering you on.
The people there treat runners like rock stars. People would just come up to us randomly and shook our hands on the street and thanked us for running. It was a like a feeling of what it would be like to be a celebrity. They take so much pride in their marathon and are very inviting."
What is the hardest part about running?
Eric
"The hardest part of running is staying motivated. For a lot of people, it's a chore. When you finally get to that point where it's more than that—it's something you love to do and a lifestyle—sometimes you still have those moments. You wake up in the morning and just don't feel like running that day. You've got to work through it. That is the hardest part: overcoming those times when it may be harder than you want it to be."
Becca
"When it comes to marathon distance, the hardest part is mental. Because it is a long time to be mentally strong. You have four hours; you have to keep talking to yourself, "Right, left, right, left." And finding the time for training is half the battle. I love working out, but sometimes it can be difficult to dedicate just running time."
Alex
"The hardest part about running this race was the emotions of coming back. A marathon is hard on you physically and mentally—and it also can be hard emotionally. You get to a point of exertion where you can't control your emotions. And then you add the drama of last year and that experience coming back. I mean, I was running down the same streets I did last year. That was probably the most difficult part—keeping those emotions in check. And I was able to for the whole race until I got to the point where I was stopped last year. And then it just hit me. And when I crossed the finish line I was just in tears. It was this emotional closure from the year before."
wh
What does running teach you?
Eric
"Running teaches me that anything is possible. When I started running, the thought of participating in the Boston Marathon was nothing more than a pipe dream. And over the course of the last 10 or 11 years as I've made more of a serious commitment, I've seen myself improve. You can apply that across most aspects of your life. If you just stick with something, anything is possible. I sit here today feeling really proud of the fact that I was able to qualify and go and participate in something that was huge."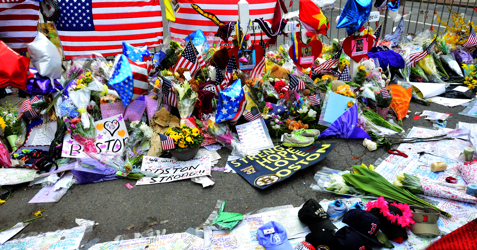 Becca
"I think running teaches me dedication and consistency. If you want to perform well, you have to put in the training. For me, running is my release. I usually don't run with music. It's my time to think and process things. It helps me be less stressed and happier."
Alex
"I think running teaches me a lot of things. Everybody gets something different from running. I would say it gives me an outlet—a solitary place for just me and my thoughts. No other distractions. It also teaches me a lot of patience. In a marathon, you have to be patient. If you're elite, it's going to take you a little over two hours to finish the race. If you're like me, it takes you about four hours. It's a patient grind and it requires a lot of mental toughness to stay committed."
Tell us a little about what you do here at ProForm's parent company, ICON Health & Fitness.
Eric
"I work in the Finance Department. From my perspective, there are a lot of neat things people do in this company. I keep track of record keeping and the books and financial reporting. What I do doesn't necessarily equate to the product and how great it is for the world. But it's really fun to be a part of a company that is trying to make a difference. I kind of view myself as a recipient of what ICON does in the fitness industry."
Becca
"I work for iFit, and I'm a trainer here. I record video workouts that we release on YouTube for iFit Daily. I also build running routes through iFit, which requires that I spend a lot of time searching Google Maps for beautiful places in the world so people can take that experience of running outside and run indoors in beautiful locations."
Alex
"I work in the iFit group. I manage the marketing content creation, so all the workouts and programs we provide to our users."