Track Your Progress As You Pedal
3.5" Full Color Display
Stay in control of your workout with our 3.5-inch full-color display. Now you can navigate through your key workout stats and options easily. Quickly view your speed, time, distance, and calories burned on the easy-to-read display.
Always A New Trail to Discover
iFit® Enabled
With iFit® interactive technology, you can bike anywhere in the world. Choose from pre-mapped courses or create your own. Plus, you can track your progress automatically, compete with friends, and customize your workout to match your goals. *iFit® wireless technology built in—no module required. Access your iFit® account from your Enabled exercise equipment, computer, tablet, or smart phone. Annual membership fee required, sold separately. Google Maps™ is a trademark of Google, Inc.
Get Going—Fast
10 Google Maps™ Workouts
Get the workout you've been craving with 10 built-in workout apps powered by Google Maps™. The simple navigation makes it quick and easy to pick your workout and get going.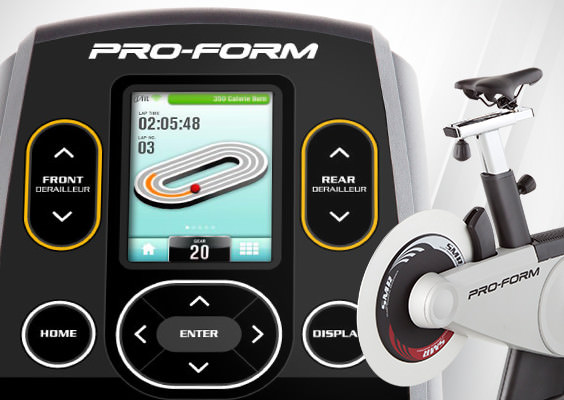 Progress from Beginner to Hard Core
20 Digital Gears
For higher workout intensity, quickly adjust your resistance level with the console controls. And when you have 20 digital resistance levels to choose from, you can start out easy and progress to intense.
Start in Normandy, France. Then head to Verona, Italy. Maybe you'll hit Salzburg, Austria next.
With your iFit® enabled bike, you won't want to stop pedaling. Our Google Maps™ routes take you anywhere in the world—you draw the course.
*Requires iFit® wireless module; sold separately. Buy an iFit® wireless module and receive a free one-year iFit® subscription. Access your iFit® account from your computer, tablet, or smartphone. Syncing iFit® account to machine currently on Android™ and iOS tablets only. Tablet not included. Google Maps™ is a trademark of Google, Inc.
Compatible Music Port for iPod®
Move to the beat of your favorite music with this built-in sound system. Plug your iPod® into the Intermix Acoustics™ 2.0 Sound System and rock out with your favorite power music. *iPod® is a trademark of Apple, Inc., registered in the U.S. and other countries. iPod® not included.
Commercial Grade Steel Frame
Experience a superior workout with this durable steel frame that is built to last.
Stay hydrated throughout your workout by keeping your water bottle close. This convenient water bottle holder is built into the bike for easy access.
Adjustable, Non-Slip Handlebars with Grips
These non-slip handlebars are ergonomically designed to cut down on fatigue and offer a comfortable workout experience with the added handlebar grips. Adjust the height to find the right fit for you.
Work out in comfort with this cushioned saddle. Adjust it horizontally and vertically to find the perfect fit.
Designed to keep your feet in place, these pedals are built with toe cages to increase stability. For added intensity and advanced users, the pedals can be used with the opposite side up.
This bike accommodates up to 300 pounds.
The ProForm® TDF 1.0 is protected with a 7-Year Frame Warranty and a 1-Year Parts & Labor Warranty.
48 Lb. Effective Flywheel
Experience a smooth, steady pedal stroke with the flywheel made to perform. A faster gear ratio and effective weight placement deliver a more natural striding experience.

Free Consultation
At ProForm®, we have been in the industry for a long time. We are a great resource when it comes to helping you choose the right product for your home—and we'd really love to help.

If you are wondering about payment options, in-home delivery, assembly and set-up, or warranty info, we have the answers. Just fill out the boxes below and we'll give you a call at your convenience.
Free Info Kit
Type in your email address if you want us to send you a free information kit.