6 Healthy Ideas For The Lazy Person At Home
With this extra time at home, it may be likely that you'll start to feel lazy at some point with your diet due to entertaining your kids 24/7, while figuring out your new remote-work lifestyle, and balancing the stress of it all. Trust us, we're feeling it as well! 

To take this responsibility off your plate, iFit® nutritionist, Michelle Alley, brings you ways to maintain healthier habits with ideas and recipes, and to help even the laziest person feel accomplished with a healthy diet.



Idea #1: Buy Pre-Cut Or Frozen Vegetables
Feeling too lazy to peel and chop veggies? Buy pre-chopped or frozen vegetables. Look for them in the produce and freezer aisles. This'll save you time and dishes when you're cooking.
Here are some iFit recipes that work great with frozen or pre-cut veggies:
Idea #2: Keep Snacks On Hand That Are High In Protein
Snacking on high-protein items increases satiety and helps with weight management. Try keeping string cheese, Greek yogurt, and almonds on hand when you're looking for a mid-morning or an afternoon snack.
Idea #3: Sleep More
Yes! Every lazy person should love the fact that getting a great night's sleep may help you keep the hormones, ghrelin and leptin, in check. Ghrelin is the hormone that causes you to feel hungry and leptin decreases it.

In general, adults need about 8 hours of sleep. To make sure that you're able to fall asleep quickly, try turning off electronics at least 30 minutes before bedtime. You can also try tracking your sleep with your iFit app so you can have a better understanding where you stand currently and what you can change to improve your sleeping habits.

Idea #4: Invest In a Slow Cooker
For those of us who want to spend as little time as possible in the kitchen, using a slow cooker is the best solution. Slow cookers allow you to dump the ingredients in the morning and come home to a healthy dinner. Try putting in a few chicken breasts with a ¼ cup water and 3 teaspoons minced garlic, then cook on low for 8 hours.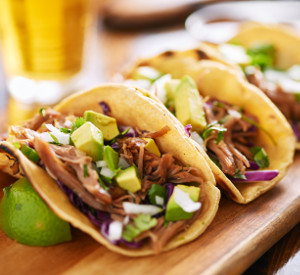 Shred chicken when it's done. You can use the shredded chicken throughout the week to create quick meals. Throw on top of salads, into soups, or in stir fry or tacos. Here are a few of my favorite slow cooker recipes:
Idea #5: One-Pot Meals
Does having to do dishes deter you from cooking? I love cooking, but even I can sometimes lose my motivation when I think of the pile of dishes I'll have to do afterward.
These one-pot meals aren't just delicious––they also keep me from cleaning up a giant mess when I'm done:
Idea #6: Stock Your Pantry With Quick Go-Tos
I like keeping whole-grain couscous, quinoa, tortillas, canned beans, tuna, and canned chicken on hand. In just twenty minutes, you can create a delicious meal!
Try a few recipes that feature these ingredients:
Try incorporating these effortless ideas and recipes into your daily routine to start your journey towards a healthier, not busier, life. And for more quick and easy recipes, be sure to check out the iFit Blog.
DISCLAIMER: This post is not intended to replace the advice of a medical professional. The above information should not be used to diagnose, treat, or prevent any disease or medical condition. Please consult your doctor before making any changes to your diet, sleep methods, daily activity, or fitness routine. ProForm assumes no responsibility for any personal injury or damage sustained by any recommendations, opinions, or advice given in this article. Always follow the safety precautions included in the owner's manual of your fitness equipment. 
IFIT DISCLAIMER: iFit requires an internet connection and wifi to function.  You will be required to provide your credit card information upon sign-up for iFit. Your Commitment Period may be month-to-month or twelve (12), eighteen (18), or thirty-six (36) months, depending on your agreement. Terms shall apply to your iFit use and subscription during your Commitment Period and any subsequent Renewal Term. Unless you cancel your account or notify us at least twenty four (24) hours prior to the expiration of your commitment period that you do not wish to renew your subscription, your iFit subscription will automatically renew for an additional month, one (1) year, or two (2) year period, as applicable, for the same duration as your initial commitment period ("The Renewal Term"), and you authorize us to bill the then-applicable membership fee and any taxes to the payment method we have on record for you. 
Sources:
https://www.proform.com/blog/stay-sane-quarantine/
https://www.ifit.com/blog/lazy-persons-guide-healthy-diet
https://blog.ifit.com/chipotle-pumpkin-chili/
https://blog.ifit.com/creamy-butternut-squash-mac-cheese/
https://www.ifit.com/blog/veggie-loaded-chicken-enchiladas-video-recipe
https://www.ncbi.nlm.nih.gov/pmc/articles/PMC5015032/
https://www.sleepfoundation.org/articles/connection-between-sleep-and-overeating
https://www.mayoclinic.org/healthy-lifestyle/adult-health/in-depth/sleep/art-20048379
https://www.sleepfoundation.org/articles/why-electronics-may-stimulate-you-bed
https://www.proform.com/blog/free-equipment-with-ifit-purchase/
https://blog.ifit.com/slow-cooker-pork-carnitas/
https://www.ifit.com/blog/aloha-chicken-video-recipe
https://blog.ifit.com/chicken-cacciatore/
https://blog.ifit.com/slow-cooker-enchilada-soup/
https://www.ifit.com/blog/one-pot-kale-sausage-pasta-video-recipe
https://www.ifit.com/blog/one-pot-thai-noodles-video-recipe
https://blog.ifit.com/one-pot-pasta-primavera/
https://blog.ifit.com/easy-chicken-parmesan-bake/
https://www.ifit.com/blog/creamy-chicken-taquitos-video-recipe
https://blog.ifit.com/vegan-enchiladas/
https://www.ifit.com/blog/thai-quinoa-salad-video-recipe
https://blog.ifit.com/vegan-bean-tostadas/