Black Friday Deals At ProForm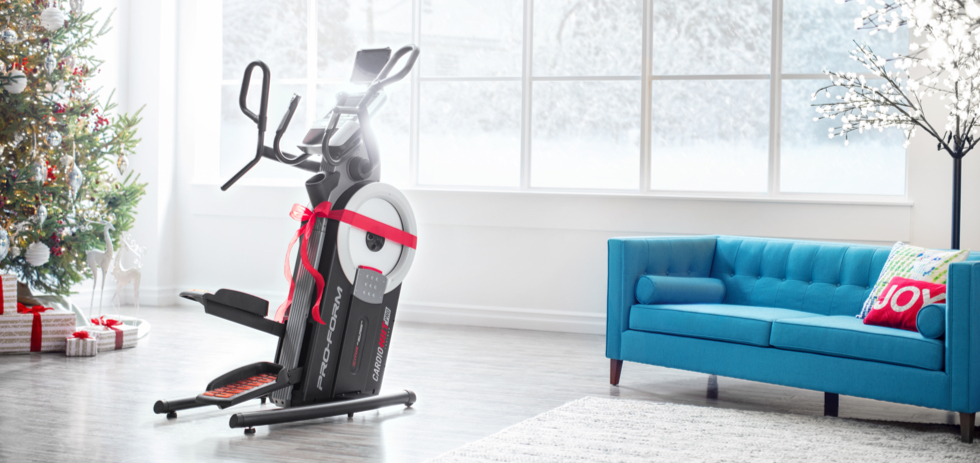 ProForm is all about providing quality products at affordable prices all year round, which is why ProForm's Black Friday deals are hard to beat! Bringing you exercise equipment that you've been wanting all year with advanced fitness technology at a lower cost, so you and your family can explore the benefits of living a healthy lifestyle, as well as receiving great savings this holiday season. 

Climb New Heights And Save Money With The Pro 2000 Treadmill
The Pro 2000 has been a fan favorite because of its incline power range up to 15 percent, giving you the ultimate workout without breaking the bank. And thanks to the 1-year iFit membership that is included with your purchase of the Pro 2000 treadmill, you're able to try the most incredible, interactive fitness technology known as iFit® on this revolutionary machine.  
Pro 2000 features include:
Full-terrain training with incline up to 15 percent and a decline down to -3 percent.
Quick speed controls up to 12mph.
Heart rate monitoring the iFit Bluetooth® Chest Strap and built-in EKG grip pulse sensors.
Enabled with iFit technology, giving you access to your own personal trainer, daily workouts, nutrition plan, sleep tracking analysis, and more.
32 preset workouts.
SpaceSaver® technology eliminating storage usage.
The Pro 2000 treadmill has been highly reviewed by customers as being an excellent piece of equipment to add to your fitness routine.

Save Big On Two Calorie-Burning Machines In One With The Hybrid Trainer
Reap the benefits of two machines in one piece of equipment at one low price. We like to call it the Hybrid Trainer. This machine gives you access to train on a recumbent bike and an elliptical.  
Features include:
Hybrid design with a full-body workout capability of an elliptical, interlaced with cardio session of a bike.
Enabled with iFit technology, giving you access to your own personal trainer, unlimited workouts, nutrition plan, sleep tracking analysis, and more.
Precision tracking for high-power workouts.
Easy access to the latest technology with an integrated tablet holder.
16 workout apps.
Heart rate tracking with built-in, dual-grip monitor.
To find out more information about its features and functionality, see the main Hybrid Trainer page here.
No more waiting for the 'perfect time' to invest in your health. ProForm's Black Friday deals have made it easy for you to make yourself a priority and get on a healthy track. To  make things even easier, ProForm offers great financing options. Now is the time to start your fitness journey!
If you're looking for other exercise equipment options, here are more Black Friday deals!
DISCLAIMER: This post is not intended to replace the advice of a medical professional. The above information should not be used to diagnose, treat, or prevent any disease or medical condition. Please consult your doctor before making any changes to your diet, sleep methods, daily activity, or fitness routine. ProForm assumes no responsibility for any personal injury or damage sustained by any recommendations, opinions, or advice given in this article. Always follow the safety precautions included in the owner's manual of your fitness equipment. Heart rate monitors used for exercise such as the wireless heart rate monitoring chest strap are not medical devices, and their accuracy may be affected by a number of factors. They are also not intended to diagnose, treat, cure, or prevent any disease.

IFIT DISCLAIMER: iFit requires an internet connection and wifi to function.  You will be required to provide your credit card information upon sign up for iFit. Your Commitment Period may be month-to-month or twelve (12), eighteen (18), or thirty-six (36) months, depending on your agreement. Terms shall apply to your iFit use and subscription during your Commitment Period and any subsequent Renewal Term. Unless you cancel your account or notify us at least twenty four (24) hours prior to the expiration of your commitment period that you do not wish to renew your subscription, your iFit subscription will automatically renew for an additional month, one (1) year, or two (2) year period, as applicable, for the same duration as your initial commitment period ("The Renewal Term"), and you authorize us to bill the then-applicable membership fee and any taxes to the payment method we have on record for you. 

Sources:
https://www.proform.com/treadmills/pro2000
https://www.proform.com/blog/beginners-guide-to-ifit/
https://www.proform.com/blog/faq-pro-2000-treadmill/
https://www.proform.com/blog/total-body-bootcamp-with-ifit/
https://www.proform.com/blog/pro-2000-treadmill-review-by-foodie-runner/
https://www.youtube.com/watch?v=p0Ys74GUgtk&t=2s
https://www.proform.com/blog/faq-hybrid-trainer/
https://www.proform.com/blog/new-ifit-personal-trainers-proform/
https://www.youtube.com/watch?v=-leoctUUkWQ&t=2s
https://www.proform.com/hybrid-trainers/hybridtrainer
https://www.proform.com/fitness-equipment-financing