Refer-A-Friend And Save With ProForm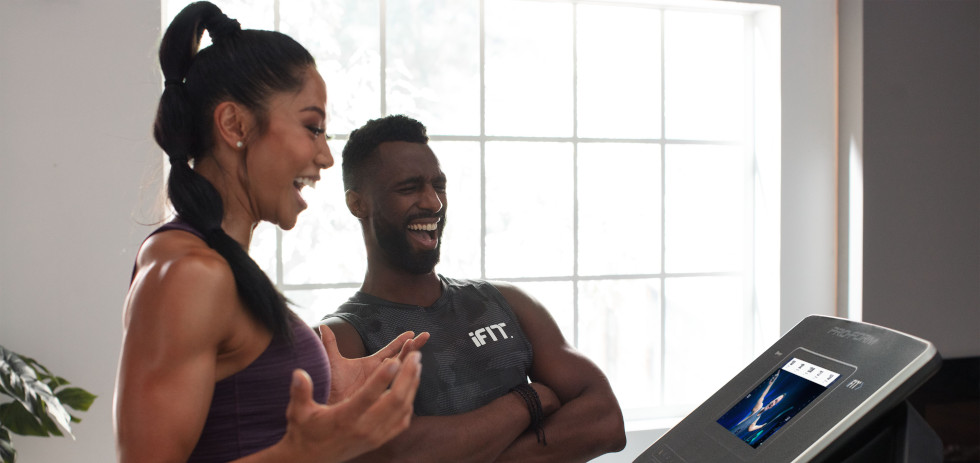 UPDATED, June 13, 2022
Sometimes it's hard to get motivated enough to participate in physical activities, especially as one ages. Did you know that evidence suggests that social support has a positive impact on physical activity (1)? 

In fact, connecting with others can relieve harmful stress levels, releasing stress-reducing hormones for both the giver and receiver (2). Not only does exercise also improve sleep and boost self-esteem, but exercising with a friend makes it more fun.

Acknowledging and understanding the health benefits associated with social connections, ProForm is offering a great referral program to encourage members to experience the benefits of connection while getting a great deal on equipment that you and your friend have been wanting.



ProForm's Refer-A-Friend Program
The ProForm Refer-A-Friend program offers your referred friends $100 off their first order at ProForm. In return, you will get a $100 ProForm gift card after your friend makes a qualifying purchase. Your gift card can be used for future ProForm purchases, even through third-party retailers (subject to the terms of the program).
Qualifying ProForm Machines
In order to be eligible, your purchase must be over $699 (accessories do not apply). Luckily,
ProForm offers an incredible line of qualifying machines, which makes it easy to take part in the Refer-A-Friend program. Top machines include:
Pro 2000 Treadmill
Including its SpaceSaver® Design with EasyLift™ Assist, the Pro 2000 treadmill offers plenty of room to accommodate your stride with a treadmill belt of 20" x 60", all without compromising your home space. A 30-day iFIT Family Membership* is also included with your purchase, enabling you and your friend to participate in some friendly competition while following the guidance of a professional iFIT trainer on the 10" Smart HD touchscreen display.
Due to its iFIT compatibility, the Pro 2000 will automatically follow various global terrain of the iFIT workout of your choosing with an impressive decline and incline range from -3% to 12%. This treadmill feature acts as an interactive and exciting workout experience, making the user feel as if they were there in-person with the trainer.
As far as comfort goes, the Pro 2000 ReBound Pro™ Cushioning provides a surface for soft footfalls to enjoy their walk, jog, or run, up to 12 mph.
Studio Bike Pro 22
The ProForm Studio Bike Pro 22 offers an amazing 22" touchscreen display that can pivot 180 degrees, allowing you and your friend to enjoy workouts on and off the bike. Challenge yourself to a beginner cycle series on your bike, then end with a strength-training session off your bike. This type of well-rounded workout experience further enhances a full-body activation, so you're further challenged during workouts and entertained all at once.
To sweeten the deal even more, the Studio Bike Pro 22 includes a free 30-day iFIT Family Membership* with your purchase. So, you can virtually explore different bike workouts every day in places like Utah, Arizona, and Glacier National Park. Wherever you feel like going that day, you have an iFIT workout to take you there.
With an adjustable seat (10 positions) and handlebars (5 positions), the Studio Bike Pro 22 allows customization for maximum comfort during rides. Thanks to its 24 digital levels of resistance, this bike continues to serve up the challenge needed for you and your friend as cycling performances increase.
Carbon E10 Elliptical
For a low-impact workout, the Carbon E10 Elliptical has an 19-inch adjustable power stride with up to a 20-degree adjustable power ramp for support and comfort. Adjustable oversized cushion pedals can also help you and your friend push through the toughest workouts comfortably, including the must-have CoolAire™ workout fan to keep you feeling cool and content even when the competition gets intense.
Don't forget to take advantage of the Bluetooth® compatibility. You and your friend can rock out to your own music playlist on the dual 2" Bluetooth® speakers during your workouts or sync up your Bluetooth® headphones. That way, you don't disturb others nearby as you're exercising.
With the included 30-day iFIT Family Membership*, your Carbon E10 purchase gives you access to escape your home to a world of iFIT global workouts. And owing to the amazing 10" Smart HD touchscreen display, workouts can provide a magnificent glimpse into different global locations that you may have never known about otherwise. 
ProForm Vue
For the strength-training enthusiast, the ProForm Vue and its reflective training experience will be the perfect addition to your fitness routine. Setting you up with the necessary equipment you will need for a great workout, the Vue includes a 10 Lb. bar, two 5 Lb. dumbbells, and four 2.5 Lb. weight plates.
For storage, the unit pivots over a solid base, revealing available space on the rear––keeping your home gym organized and clutter-free. Plus, the unit has amazing sound quality coming from the two 3" speakers, so you can easily follow your iFIT trainer during each session with clear and precise instruction.
Thanks to its 30-day iFIT Family Membership* that's included with your purchase, stream on-demand studio sessions and explore live events on the staggering 22" Smart HD touchscreen display while focusing on using proper form via the Vue's 24" x 60" reflective surface. 
Conclusion
As social support can fortify your commitment and encourage both you and your friend to make your health even more of a priority, there's no better time to start than now with the ProForm Refer-A-Friend program. Strive for your fitness goals, have a great time with your friend, and save with ProForm.
*iFIT memberships start at $15/mo. + tax, and auto-renew unless canceled in advance. Cancel at any time. Credit Card required for activation. Internet and WiFi required. 
This blog post is not intended to replace the advice of a medical professional. The above information should not be used to diagnose, treat, or prevent any disease or medical condition. Please consult your doctor before making any changes to your diet, sleep methods, daily activity, or fitness routine. ProForm assumes no responsibility for any personal injury or damage sustained by any recommendations, opinions, or advice given in this article. Always follow the safety precautions included in the owner's manual of your fitness equipment. Shipping times are dependent on in-stock inventory and delivery timeframes may vary. Make sure to check the website for any specific delays in delivery and shipping.
Sources: