Join The Fitness Revolution With ProForm+
UPDATED, January 4, 2021
Another year has passed and New Year resolutions are made once again. Common New Year resolutions include:
Eat healthier
Exercise more
Lose weight
Save more money and spend less
Learn a new hobby
Although these are great resolutions to have and we may all start off strong and completely dedicated, it is common to "fall off the wagon" a couple months in. You may start to feel discouraged because you don't know where to get started or you become unmotivated because you don't see results right away. You may even feel like you cannot financially keep up with the expensive costs of gym memberships.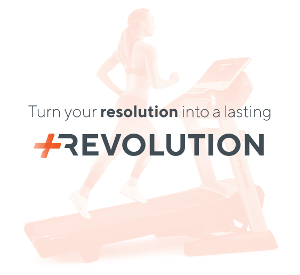 In 2019, U.S. fitness centers had a total of 64.19 million gym memberships, which some members may only use the first couple months of the year to never go back again. According to U.S. News, 67 percent of consumers that sign up for a gym membership never use their gym memberships, yet still paying an average of $60 per month for their membership.   
All of these frustrations can really weigh heavy on your motivation and pocketbook. Say no more and start this new year stronger than ever with turning your New Year resolutions into a lasting Revolution with ProForm+. ProForm+ is a great program to get you the right equipment with challenging iFit® workouts without breaking your bank. ProForm+ makes it easier than ever to create your own home gym with free equipment and shipped to your home for free with a qualifying iFit membership.
Now how can ProForm+ help users succeed in their New Year resolutions, you say? Let's take a closer look:
Resolution #1: Eat Healthier
ProForm+ equipment is enabled with iFit, an interactive training program that includes a personalized nutrition plan for each user, meal tracking, and recipe ideas all designed by certified nutritionists.
Resolution #2: Exercise More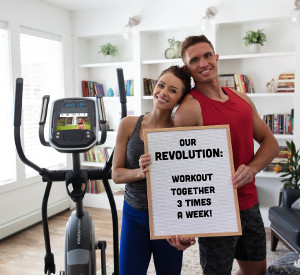 The machines that are offered in ProForm+ are top of the line, quality engineered to withstand the most challenging workouts brought to you by iFit. With the expansive library of global workouts on iFit, you may actually want to exercise more! Work out anywhere in the world like Scotland, Hawaii, Iceland – the destinations are endless and they're awaiting to be explored on iFit.
Resolution #3: Lose Weight
Each machine and iFit workouts were designed to help you reach your fitness goal – pushing you harder and further than ever before. With the LIVE Trainer Control capability, your personal trainer will automatically adjust your resistance level during your workout so you get the most out of your workout without the distraction of adjusting your machine yourself. You will also notice on each workout the intensity level. You can gauge your fitness level and increase the intensity as you grow stronger, burning more calories in the process as you improve.
Resolution #4: Save More Money And Spend Less
Leave the expensive gym memberships and personal trainer costs at the gym, and explore a whole new world of training from the privacy of your home. Get your money's worth plus more with nutrition tracking, sleep analysis, and a large variety of workouts at no additional or hidden costs. Not to mention all the money you save in gas from traveling to the gym.
You can save even more money outside the gym and explore the wonders of the world without high-priced plane and hotel bookings. Traveling the world has just been made easier for you and your loved ones.
Resolution #5: Learn A New Hobby
Are you tired of doing the same type of workouts? iFit has a variety of HIIT, yoga, strength training, studio classes, and destination workouts that'll keep you entertained each day. And iFit continues to add new workouts and global sites all the time!
Do you limit yourself to only workout on a treadmill? ProForm+ has multiple options so you can take advantage of machines like:
Now that you have a great idea of what your New Year resolutions are and what it'll take to get you there, ProFrom+ wants to help you succeed and stay there! Take part in the new Revolution movement and make this new change last a lifetime.
So, let's hold each other accountable and make our resolutions happen together! Start and stay strong this year with ProForm+!
DISCLAIMER: This blog post is not intended to replace the advice of a medical professional. The above information should not be used to diagnose, treat, or prevent any disease or medical condition. Please consult your doctor before making any changes to your diet, sleep methods, daily activity, or fitness routine. ProForm assumes no responsibility for any personal injury or damage sustained by any recommendations, opinions, or advice given in this article. Always follow the safety precautions included in the owner's manual of your fitness equipment. 
IFIT DISCLAIMER: iFit requires an internet connection and wifi to function.  You will be required to provide your credit card information upon sign up for iFit. Under this FREE item promo, your monthly payment is $39. You will be charged until you pay the full price of $1403. ProForm's general return policy does not apply to the FREE items promo. You may return your ProForm equipment and cancel your iFit membership within 30 days of receipt of the product. After 30 days, you may cancel your iFit membership at any time, but your remaining balance will then be due.
Sources:
https://www.statista.com/statistics/236123/us-fitness-center–health-club-memberships/
https://www.usatoday.com/story/money/personalfinance/2016/04/27/your-gym-membership-good-investment/82758866/
https://www.proform.com/blog/free-equipment-with-ifit-purchase/
https://www.ifit.com/nutrition
https://www.proform.com/blog/expand-mind-health-with-ifit-global-workouts/
https://www.proform.com/free-equipment
https://www.proform.com/blog/new-ifit-personal-trainers-proform/
https://digitalcommons.wku.edu/ijes/vol12/iss2/21/
https://www.proform.com/treadmills/carbon-t10
https://www.proform.com/ellipticals/carbon-e7
https://www.proform.com/exercise-bikes/studio-bike-pro
https://www.proform.com/hiit-trainers/proform-cardio-hiit-trainer
https://www.proform.com/rowing-machines/pro-r10-rower