Keep Knee, Joint, And Arthritis Pain At Bay With The Performance 600i Treadmill
Arthritis can describe dozens of different health conditions. Some of the most common include osteoarthritis, rheumatoid arthritis, psoriatic arthritis, and gout. Sadly, they typically share one thing in common – arthritis pain. If you wake up in the morning with knee pain or suffer from stiff joints after sitting, it's easy to understand why you might put off exercising. Still, the right kind of workout can ease discomfort and preserve your overall health.


Below you'll see how the Performance 600i treadmill offers the perfect fitness solution for people who suffer from knee and other joint pain because of arthritis.



Benefits Of Joint-Friendly Exercise For Arthritis Sufferers
Before exploring the benefits and understanding why the wellness team at Times of Health recommend the Performance 600i treadmill to arthritis sufferers, first find out more about the importance of exercise for people who suffer from various kinds of arthritis. The CDC suggests finding joint-friendly physical activities to:
Relieve pain and improve mood
Reduce the risk of injuries and arthritis-related disabilities
Prevent or manage other age-related medical conditions, such as obesity, heart disease, and diabetes
The right kind of exercise will actually ease pain and stiffness, help delay progression of the disease, and of course, protect your overall health. In other words, you may not feel like exercising at first due to pain. But you can actually keep your joints better lubricated and free of injuries if you use them. Plus, keeping yourself physically active will help you preserve and improve your overall health and fitness – preventing you from letting your pain dictate and control your life.

For example, doctors reported on National Institute of Health about the benefits of exercise for rheumatoid arthritis sufferers. They reviewed scientific studies that found exercise can help older adults reduce the risk of chronic disease by about 30-50 percent. In addition, physically active people lower their risk for several kinds of cancer, falls, and even depression. According to this report, they will also minimize the chance of early death or disability. If you're looking for a natural remedy or fountain of youth, you've found it – exercise.
Why Arthritis Sufferers Turn To The Performance 600i Treadmill
Of course, it's important for you to tailor your workout to suit your health condition. Remember that the CDC recommended joint-friendly activities. You won't want to tax your joints by pounding away barefoot on concrete. In fact, the CDC has a series of guidelines for remaining physically active for people with arthritis that they call their S.M.A.R.T. tips: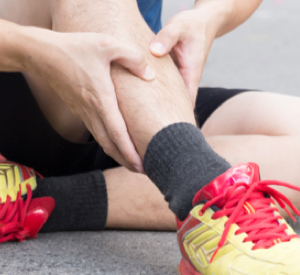 Start low and go slowly
Modify physical activity with respect to symptoms
Activities that are joint-friendly
Recognize safe venues for activity
Talk to your doctor
The Arthritis Foundation specifically recommends treadmills, because of how well they contribute to the CDC guidelines for people with arthritis and overall fitness. Among other tips, they suggest making sure that you buy a treadmill that includes features that optimize the experience for people who suffer from joint pain. For instance, the Arthritis Foundation says that walking at a slight incline and having a cushioned surface can minimize joint pressure.

The Performance 600i treadmill has these beneficial features. Specifically, this treadmill has ProShox™ Cushioning. ProForm's patented shock absorbers keep the impact to a minimum, so as you walk, jog, or run, your joints will be thanking you. The treadmill also has a 0-10 percent incline range that is easily accessible with a touch of a button located directly in front of you on the dashboard.

As an addition, each purchase comes with a one-year membership to iFit®, so you gain access to top trainers, studio sessions, destination workouts, nutrition guidance, and much more.

You can stay cool with the built-in fan too. The treadmill also comes with a mounted, 10" SMART HD Touchscreen that lets you access a variety of workouts – giving you the experience as if you were there in person. You'll also find the treadmill convenient to use because of its SpaceSaver® Design. You can fold the deck up and move it out of the way. And as an added bonus, we built in a powerful shock called EasyLift™ Assist that helps you lift the deck with an easy push.
Overcome Your Pain With The Performance 600i
Say goodbye to excuses and take control over the pain and discomfort, then say hello to the new and improved you that is waiting on the Performance 600i. With the benefit of the ProShox™ Cushioning and the incline range accessibility, there's no stopping you from reaching your fitness goals.
DISCLAIMER: This post is not intended to replace the advice of a medical professional. The above information should not be used to diagnose, treat, or prevent any disease or medical condition. Please consult your doctor before making any changes to your diet, sleep methods, daily activity, or fitness routine. ProForm assumes no responsibility for any personal injury or damage sustained by any recommendations, opinions, or advice given in this article. Always follow the safety precautions included in the owner's manual of your fitness equipment. IFIT DISCLAIMER: iFit requires an internet connection and wifi to function.  You will be required to provide your credit card information upon sign up for iFit. Your Commitment Period may be month-to-month or twelve (12), eighteen (18), or thirty-six (36) months, depending on your agreement. Terms shall apply to your iFit use and subscription during your Commitment Period and any subsequent Renewal Term. Unless you cancel your account or notify us at least twenty four (24) hours prior to the expiration of your commitment period that you do not wish to renew your subscription, your iFit subscription will automatically renew for an additional month, one (1) year, or two (2) year period, as applicable, for the same duration as your initial commitment period ("The Renewal Term"), and you authorize us to bill the then-applicable membership fee and any taxes to the payment method we have on record for you. 
Sources: