Build Muscle By Doing These Plyometrics
Plyometrics have become increasingly popular exercises across nearly all types of athletics. The moves were first introduced by the Soviets during the Cold War, which led to their high-performing athletes. Soon it caught on in the West. It was not long before even non-competitive athletes began to discover the power of these exercises.

Plyometrics are designed specifically to build muscle power, strength, balance, and agility. Also known as jump training, plyometrics helps the muscles maximize their power. If you want to build and tone your muscles, continue reading below and learn more about what you need to know about plyometric exercises. First, let's go over why doing plyometrics is so beneficial.



Benefits Of Plyometrics
Plyometrics encourage your muscles to work at their maximum capacity through jumps and similar types of high-intensity training. This type of training is attributed to the elastic recoil of the elastic tissues. Due to the concentric force increases of the muscle, this makes plyometric training very efficient. Not to mention plyometrics require little to no equipment, so they can be done anywhere at any time.
With the popularity of plyometric exercises, researchers have investigated the degree of plyometric results. In a six-week study to test plyometric training, agility performance was shown to improve drastically. An important caveat; however, to achieve these results, the exercises must be performed at a high intensity. Seasoned athletes, who have already achieved a high level of physical fitness, will also need to perform these specific exercises for longer than just a couple weeks to see the desired results.
Other benefits of plyometrics include strengthening the connective tissue, improving cardiovascular health, burning calories, and enhancing overall general fitness––helping you in handling your daily activities.
Building And Strengthening Muscles With Plyometrics
Plyometric exercises train the muscles to contract efficiently so that they can produce large amounts of explosive energy. Typically, the brain will try to limit the amount of force exerted by the muscles; however, high-intensity movements will cause minimal reductions in maximal motor unit firing rates in young and old subjects.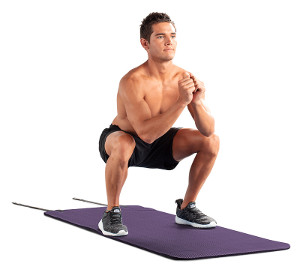 A person who has trained with plyometrics is successful through a stretch-shortening cycle (SSC) that develops during the transition from a rapid eccentric muscle contraction (deceleration or a negative phase) to a rapid concentric muscle contraction (acceleration or a positive phase). The goal is to achieve a muscle contraction that maximizes speed and strength. The faster a muscle contracts, the more energy it releases. The muscle must first coil up, loading the muscle with energy––kind of like a spring. When it is held in storage for only a brief period, it allows for maximum efficiency and release.
Plyometrics work; therefore, training the existing muscles and helping them work more efficiently and effectively. Unlike certain weightlifting techniques used for building muscle, these exercises rather tone muscle groups and help them perform better.
Plyometrics To Try
Those interested in trying plyometrics can give some of these moves a try. They have been selected because they do not require any equipment, making it easier for any athlete to begin incorporating plyometric training into their workout routine.
Squat Jumps
To do a squat jump, you want to begin with your feet shoulder-width apart. The move begins with a regular squat. Make sure that you maintain quality squat form, meaning that your knees are aligned above your ankle or foot. Doing the move with your knees over your toes may result in an injury. Improper form in any exercise can result in injuries to your knee or other parts of your body.
As you begin to go down, keep your chest upright and remain looking forward. Go down as low as you can while still maintaining good form. Once you have reached your lowest position, drive your body up using maximum force with your legs so that you push up into a full jump as high as you can. Keep your core tight throughout the move and land with your legs fully extended and finish on the balls of your feet.
Sample Routine: Do 3 rounds of 5 jumps each, pushing yourself to explode with each jump.
Scissor Jumps
Begin with one foot forward and the other behind. The rear leg should have the knee bent so that it is nearly touching the ground. The front knee should be around the midpoint of the forward foot. You will then begin your jump by forcefully extending both legs. Like the squat jumps, you want to explode upwards, jumping as high as you can with maximum force. While you are in the middle of the jump, switch the position of the legs. This means that as you land, your front leg should go to the back and your back leg should come to the front. As you land, allow your legs to sink into a lunge position to absorb the impact.
Sample Routine: Do 4 rounds of 4 jumps each, pushing high enough with each jump to complete the move.
Broad Jumps
Begin again with your feet shoulder-width apart, ensuring that your legs are not staggered so that you push off with both feet evenly. Rise onto the balls of your feet. Move your arms behind you and bend your knees and hips to prepare for the jump. Lower your body to about a half squat, so you will not need to go as low as you did with the squat jumps. You then want to explode your energy through your legs and drive your body forward as far as you can. Throw your arms hard as you begin the jump to fully experience the power of this move. Once you are in the air, throw your feet out in front of you to maintain your momentum and to get ready for the landing. Aim to land with your weight slightly forward to help you maintain your balance.
Sample Routine: Do 2 rounds of 5 jumps each.
Skater Jumps
Begin by positioning yourself in a small squat and then bring your right leg off the ground so that you are balancing on your left leg. Push off your left leg onto the right one, alternating your motion. Continue to switch directions throughout the exercise to build speed and agility.
Sample Routine: Do 2 rounds of 6 jumps each.
Plyometric exercises can provide enormous benefits to athletes as well as others interested in maintaining their physical fitness. Its ability to build speed, agility, and strength can help anyone reach their maximum potential. If you want to use these exercises to maximize your power, consider incorporating some of the sample routine exercises into your workout listed above.
DISCLAIMER: This post is not intended to replace the advice of a medical professional. The above information should not be used to diagnose, treat, or prevent any disease or medical condition. Please consult your doctor before making any changes to your diet, sleep methods, daily activity, or fitness routine. ProForm assumes no responsibility for any personal injury or damage sustained by any recommendations, opinions, or advice given in this article. Always follow the safety precautions included in the owner's manual of your fitness equipment. 
Sources:
https://www.newagephysicaltherapy.com/tag/plyometric-exercises/
https://www.webmd.com/fitness-exercise/a-z/what-is-plyometrics
https://www.ncbi.nlm.nih.gov/pmc/articles/PMC4637913/
https://www.healthline.com/health/exercise-fitness/plyometric-exercises#benefits
https://www.ncbi.nlm.nih.gov/pmc/articles/PMC3842147/
https://www.ncbi.nlm.nih.gov/pmc/articles/PMC5033663/
https://journals.physiology.org/doi/full/10.1152/jn.00908.2009
https://www.ncbi.nlm.nih.gov/pmc/articles/PMC5260592/
https://www.bodybuilding.com/content/28-laws-of-lifting-for-muscle.html
https://www.healthline.com/health/exercise-fitness/plyometric-exercises
https://www.proform.com/blog/easy-plyometric-exercises-for-beginners/
https://www.youtube.com/watch?v=CVaEhXotL7M
https://www.youtube.com/watch?v=5VlnYBz64Pg
https://www.youtube.com/watch?v=96zJo3nlmHI
https://www.youtube.com/watch?v=BOCgMuczgZA