6 Reasons Why The Studio Bike Limited Is A Must-Have
The latest and greatest thing to hit the fitness world is now here – the ProForm Studio Bike Limited. Sure, there are many exercise bike options out there to work you out, but the Studio Bike Limited goes above and beyond to give you the experience that you've never had before. Not only giving you access to your new and improved self, but also letting you see the world while you work out with the best personal trainers in the business. And the best part about it, you can get the Studio Bike Limited for FREE* with your purchase of a 3-year iFit membership!

So, let's dig a little further into this prized piece of exercise equipment. Here are 6 reasons why the Studio Bike Limited is a must-have in every home gym:



1. Experience Private Workouts At Home
How many times have you wanted to go to a cycle class at the gym but weren't motivated enough, the time of the class didn't fit within your schedule, you didn't feel comfortable enough working out in front of others, or you questioned the cleanliness of the gym? We've all experienced these feelings of concern – you're not alone!

The nice part about having the Studio Bike Limited in your home gym is that you'll never have to have those concerns again. Workout whenever you want, with whomever you want, however you want. And just because you're working out at home doesn't mean you won't get the same intense training session. You'll get world-class training within the comfort of your own home. It's a win-win!
2. Personal Coaching With iFit®
iFit has brought a whole new spin to fitness. Bringing you the best personal trainers in the business to train you on health and fitness. iFit doesn't take the one-size-fits-all approach. Choose your own personal trainer depending on your preferred training style. Perhaps one day, you prefer a high-intensity training session. The next day, you may want a recovery session. It's your training, so you choose! No need to worry about paying extra fees or working around your personal trainer's schedule. Work out on your time and your time only.
We're sure you've heard the fitness rule that to live a healthy lifestyle, it's 20% physical fitness and 80% what you eat. Better believe that this is true! Without putting the right kind of fuel into your body, your performance will slack. Which is why iFit has incorporated a meal plan customization feature on their app. Define your fitness goal and build your meal plan around that. 
Another important factor that affects your health is sleep. Have you ever noticed how one day you'll experience so much energy and the next you're dead tired? This feeling can be due to lack of sleep. Thanks to iFit, you can now track the quality of sleep you're getting each and every night. You'll be surprised just how your sleeping patterns can help your eating habits, as well as your physical performance. 
What about spicing up your workouts with traveling? Strange question, we know! However, iFit has now made it possible to work out anywhere in the world. Fancy going abroad to the beaches of Thailand? Or have you been wanting to walk the streets of Paris? Now you can without the crazy travel costs of flights and hotels, then waiting for favorable weather in each location. Travel as often as you like, all the while getting into the best shape of your life. Who knew that was even possible!

3. Customizable Settings
Make your exercise bike fit you with customizing each setting. The handlebars, seat, and pedals are all adjustable to fit your riding preference. Get the most out of each workout without the need to fuss with changing the stack and reach settings. This is your exercise bike – make it yours and keep it that way. 
4. Sleek Design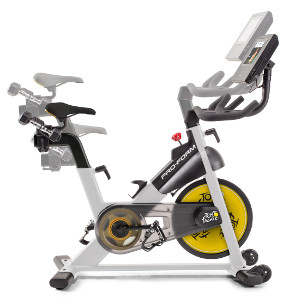 No need to worry about your fitness equipment being an eyesore in your home. The Studio Bike Limited has a sleek design – showing modern style and professionalism without taking up too much room. Perform at a whole new fitness level that you've never experienced before while looking good. 
And forget disturbing others in your home with your workouts. The SMR™ Silent Magnetic Resistance allows you to enjoy low- and high-intensity workouts without ever being too loud.
5. Enhanced Entertainment Features
The Studio Bike Limited brings a pivotal moment in your fitness with SmartSwivel™ design, taking you off your exercise bike and amping up your routine with the huge 10" Smart HD touchscreen. Throw in some arm workouts and HIIT to burn maximum amount of calories. 
6. Affordability
No need to pay an extraordinary amount when you're trying to do better for your well-being. The Studio Bike Limited is affordable for anyone and everyone who is wanting to improve. And with ProForm's special financing, you're able to get this incredible machinery for free with a 3-year iFit membership. Your future self will thank you!
So, no more excuses! You owe this to yourself – you're worthy enough in giving yourself the gift of health and happiness. And it's not just about the features of the Studio Bike Limited, but it's about the experience. Working out shouldn't be a hassle, but a guilty pleasure instead.
DISCLAIMER: This post is not intended to replace the advice of a medical professional. The above information should not be used to diagnose, treat, or prevent any disease or medical condition. Please consult your doctor before making any changes to your diet, sleep methods, daily activity, or fitness routine. ProForm assumes no responsibility for any personal injury or damage sustained by any recommendations, opinions, or advice given in this article. Always follow the safety precautions included in the owner's manual of your fitness equipment. 

IFIT DISCLAIMER: † 0% APR for 36 months with Equal Payments: 0% APR from date of eligible purchase until paid in full. Monthly payment is the purchase amount divided by the number of months in the offer. Last payment may vary due to rounding. On-time payments will pay off the promotional balance. Advertised monthly payment amount excludes taxes, delivery, or other charges. Other transactions and charges affect total monthly payment amount. Prior purchases excluded. Account must be in good standing. Limited time offer. Standard account terms apply to purchases that do not qualify. New accounts: Standard Purchase APR 29.99%. Minimum interest charge $1. Existing accounts, see your credit agreement for applicable terms. Subject to credit approval. ProForm financing account issued by TD Bank, N.A. iFit requires an internet connection and wifi to function.  You will be required to provide your credit card information upon sign up for iFit. Terms shall apply to your iFit use and subscription during your Commitment Period and any subsequent Renewal Term. Unless you cancel your account or notify us at least twenty four (24) hours prior to the expiration of your commitment period that you do not wish to renew your subscription, your iFit subscription will automatically renew for an additional month, one (1) year, or two (2) year period, as applicable, for the same duration as your initial commitment period ("The Renewal Term"), and you authorize us to bill the then-applicable membership fee and any taxes to the payment method we have on record for you.

Sources:
https://www.proform.com/exercise-bikes/studio-bike-limited
https://www.proform.com/blog/4-main-benefits-of-having-an-exercise-bike-at-home/
https://www.proform.com/blog/new-ifit-personal-trainers-proform/
https://www.proform.com/blog/cardio-hiit-workout-costa-rica-with-ifit/
https://www.proform.com/blog/recovery-advice-from-ifit-trainer-john-peel/
https://www.proform.com/blog/chicken-noodle-soup-recipe-ifit/
https://www.proform.com/blog/ifit-travel-machu-picchu/
https://www.youtube.com/watch?v=nFnwD6kQwa8&feature=emb_title
https://digitalcommons.wku.edu/ijes/vol12/iss2/21/  (This study was commissioned by and paid for by ICON Health & Fitness, Inc.)