Frequently Asked Questions: ProForm Endurance 720 E Elliptical
It may be difficult to burn more calories if you're someone that requires low-impact exercise because of the lack of intensity of your workout – not when you have the ProForm Endurance 720 E Elliptical. Thanks for ProForm's engineering expertise and vision, the Endurance 720 E allows each user to experience a total-body high-intensity workout without high impact. It's 19" power adjustable stride allows for a comfortable and smooth workout while increasing your heart rate. 

Now that you know what equipment may help you reach your full potential, what workouts will challenge you enough to help you the rest of the way and keep you at your healthiest peak? The solution is iFit®! Physically challenging you to the highest degree as you explore different beaches, mountains, and cities around the globe – allowing you to forget that you're working out in the first place.
Below we've listed a few frequently asked questions to make sure your ProForm purchasing experience runs smoothly.
ProForm Endurance 720 E Features
Q: How big is the Endurance 720 E Elliptical?
A: Fully assembled, the ProForm Endurance 720 E is 34.4" W x 68.25" D x 69.3" H.
Q: What is the user weight capacity on the elliptical?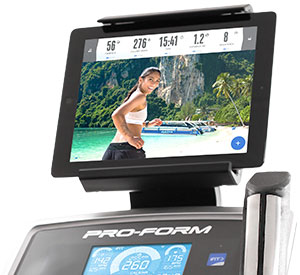 A: The user weight capacity is 325 lbs.
Q: Is there heart rate monitoring on the Endurance 720 E?
A: Yes. This elliptical monitors your heart rate with the built-in EKG grip pulse sensors.
Heart rate monitors used for exercise such as the wireless heart rate monitoring chest strap are not medical devices, and their accuracy may be affected by a number of factors. They are also not intended to diagnose, treat, cure, or prevent any disease.
Q: What is iFit?
A: iFit is interactive personal training that you can utilize right in your home every single day. With access to daily fitness classes led by top-tier personal trainers, Google Maps™ street view, an expansive workout library, personalized nutrition, and HD videos all over the world–– this is the ultimate fitness experience that you won't be able to find anywhere else.
ProForm Payment And Financing
Q: Which payment options do you offer?
A: You can purchase your Endurance 720 E in-full with your debit or credit card. We also offer special financing with ProForm Finance OAC. See terms.
Q: Who is the issuer of the ProForm Financing program account?
A: The ProForm Financing program account is issued and administered by TD Bank, N.A.
Q: Where do I direct questions about the ProForm Financing program account?
A: For customer service or help related to your ProForm credit card, please call 1-800-217-7961.
Q: Can I manage my ProForm Financing program account online?
A: Yes! It's easy and secure. Enroll at www.myonlineaccount.net to go paperless, pay your bill, view your statements, check your remaining promotional balance, and more.
Q: Do you have any discounts?
A: Contact one of our agents for current promotions.
ProForm Shipping
Q: How much is shipping?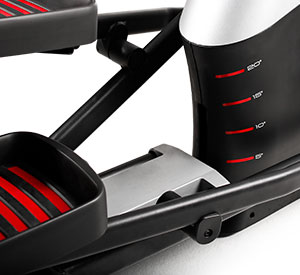 A: Due to the great uncertainty of COVID-19*, we are currently not offering white glove delivery with in-home assembly. Our first priority is the welfare of our customers and associates, so we will continue to remain committed to delivering your equipment purchase to your home as curbside delivery only.
Q: How long does shipping take?
A: Processing time frame takes about 1-3 business days, and shipping takes about 7-10 business days. Allow 1-3 business days for your equipment to arrive at your local delivery center, then the delivery center may call you to schedule a time for your equipment to be delivered to your home.
Setting Up
Q: How hard is set-up?
A: The ProForm Endurance 720 E Elliptical has out-of-the-box easy assembly. You will want 2 people for assembly because some of the pieces are quite heavy.
Make sure to abide by your equipment's user manual for proper setting-up instructions, including the Important Precautions at the beginning of the manual.
ProForm Warranty
Q: What is the warranty?
A: Buy confidently! The ProForm Endurance 720 E has a 10-Year Frame Warranty, 2-Year Parts Warranty, and 1-Year Labor Warranty.
For Warranty Terms and Conditions, see here.
ProForm Returns
Q: What if I want to return my machine?
A: You can return your ProForm product within 30 days upon receipt. Returns will be charged a return shipping fee of $250 plus a 10% restocking fee. Because of the size and weight of the ProForm product, we do not offer a refund for any shipping or delivery charges you may have paid to receive your product. Returning your product may incur additional charges for ordinary wear and tear or damage caused by improper use, misassembly or accidents.
If your product has shipped, even if you have not received your machine, the return shipping and restocking fees above will apply.
To initiate a return, please contact us at 1-866-896-9777.
Should you have any more questions that we haven't answered on this list, contact one of our ProForm representatives or call 1-888-742-0128 for more information.
iFIT memberships start at $15/mo. + tax, and auto-renew unless canceled in advance. Cancel at any time. Credit Card required for activation. Internet and WiFi required. 

This blog post is not intended to replace the advice of a medical professional. The above information should not be used to diagnose, treat, or prevent any disease or medical condition. Please consult your doctor before making any changes to your diet, sleep methods, daily activity, or fitness routine. ProForm assumes no responsibility for any personal injury or damage sustained by any recommendations, opinions, or advice given in this article. Always follow the safety precautions included in the owner's manual of your fitness equipment. Shipping times are dependent on in-stock inventory and delivery timeframes may vary. Make sure to check the website for any specific delays in delivery and shipping. *It is recommended that individuals continue to check the CDC's website given the fluid and evolving nature of their warnings.
Sources: