Back To School Like A Pro
Having your kids go back to school can be stressful for everyone in the family. Parents changing up their schedule to get their kids up and ready in the morning and shuttling them to and from school, kids figuring out their new routine and worrying about their classes and making new friends, teachers getting their courses organized and getting familiar with their students––let alone, new processes being put in place to accommodate social distancing for parents, kids, and teachers.

Don't let this new school year intimidate you––let us help you cope with it all like a pro.
Combat that back to school stress and make a healthy change that'll help enhance your energy levels, coping skills, and overall patience. Treating your body well with regular exercise will help you take on the day and tasks at hand!
Psychiatrist, John J. Ratey, MD, has studied the relationship between exercise and anxiety, and he states, "I've not only seen the science, I've witnessed firsthand how physical activity affects my patients. Research shows aerobic exercise is especially helpful. A simple bike ride, dance class, or even a brisk walk can be a powerful tool for those suffering from chronic anxiety. Activities like these also help people who are feeling overly nervous and anxious about an upcoming test, a big presentation, or an important meeting."
Luckily, ProForm+ breaks it down easily––allowing customers to get free ProForm equipment with a purchase of a 3-year iFIT Family Membership. Yes, you read that correct––FREE! 
In combination with your decision to invest in your health for you and your family with ProForm+, here are 3 ways you can reduce stress further with your back to school schedule:
Some Things Can Wait
You can easily get stressed, even worse, paralyzed by the thought of everything you need to get done for the day or week––your daily tasks, then adding transportation duties, extracurricular activities, and homework on top of that. Understanding that there are some things that can wait until later in the week can soften your stress load.
Perhaps spend the beginning of your week writing out your responsibilities for the upcoming week, and ranging tasks by their importance. Having everything written out in front of you may help satisfy organization and help you stick to a schedule. With having tasks scheduled for a specific day and time can help make sure that everything gets completed with ease.
Stay Positive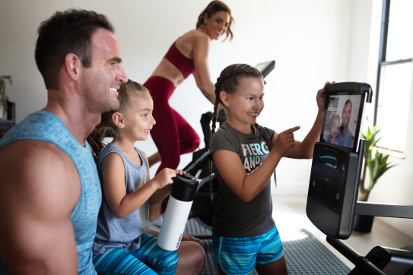 Sometimes we forget being a kid ourselves––seeing how easily they can pick up on energies and conversations. If you're stressed, your kids may feel it as well, becoming stressed themselves. So, it's important to allow yourself to express your stress but rather in a healthy and positive way. Afterall, we're setting an example for our kids by how we act and react in front of them whether we realize we're doing so or not.
That also goes for being active and eating well. Kids may watch you each day, making time for regular exercise and eating healthy foods. This can influence them to feel and do the same. So, let's be that positive influence they need by setting positive and healthy building blocks for their future.
Communicate Regularly
As we already know, kids watch their parent's every move and don't necessarily understand the meaning behind it or why. It's a good idea to stay in regular communication with kids to help them sort through situations, so they can also manage their own feelings and their actions as they grow older. Like the saying goes, "Monkey see, monkey do."
In combination with a regular exercise routine and implementing these ways to help combat stress just may be the ticket to a smoother, more fun back to school experience this year.
DISCLAIMER: This post is not intended to replace the advice of a medical professional. The above information should not be used to diagnose, treat, or prevent any disease or medical condition. Please consult your doctor before making any changes to your diet, sleep methods, daily activity, or fitness routine. ProForm assumes no responsibility for any personal injury or damage sustained by any recommendations, opinions, or advice given in this article. Always follow the safety precautions included in the owner's manual of your fitness equipment. Children under 16 should not be on, around, or use ICON fitness equipment for safety reasons. See user's manual.
Sources:
https://www.youtube.com/watch?v=vStp_f9PtVs&feature=youtu.be
https://www.proform.com/blog/exercise-make-you-happier-healthier/
https://www.health.harvard.edu/blog/can-exercise-help-treat-anxiety-2019102418096
https://www.proform.com/blog/understanding-aerobic-anaerobic-exercise/
https://www.youtube.com/watch?v=53TCSEPaCUM
https://www.mother.ly/how-to-ease-back-to-school-stress/4-be-excited-for-what-is-to-come
https://www.proform.com/blog/healthy-ideas-for-lazy-person-at-home/