Automatic Heart Rate Training with iFit ActivePulse™
A new world of exercise is almost here! What once was manual exercise––adjusting a machine's speed and incline throughout a workout––is done automatically based upon one physical factor: your heart rate. You can now make your workout automatically work for you and with you, thanks to ActivePulse™.

ActivePulse™: The Ultimate Heart Rate Training iFit® Feature
Until now, the intensity of a user's workout was gauged by a machine's console––showing their workout time length, calories burned, intensity level, and heart rate measurement via the front handrail. And a common question users have, "How do I know if I worked out hard enough?"
ActivePulse™ is your answer and the ticket to reaching your full potential of every workout based upon a real-time feedback loop between a user's measured heart rate and your ProForm machine's speed and incline.
For instance, if you're doing a HIIT workout on your ProForm bike and you're wondering if you're forcing yourself to work hard enough to get the most benefit, ActivePulse™ will not just tell you to either increase or decrease your intensity, it will automatically adjust your machine to that level and resistance to keep you working in the right zone––making self-monitoring not even necessary.
Benefit Of Heart Rate Tracking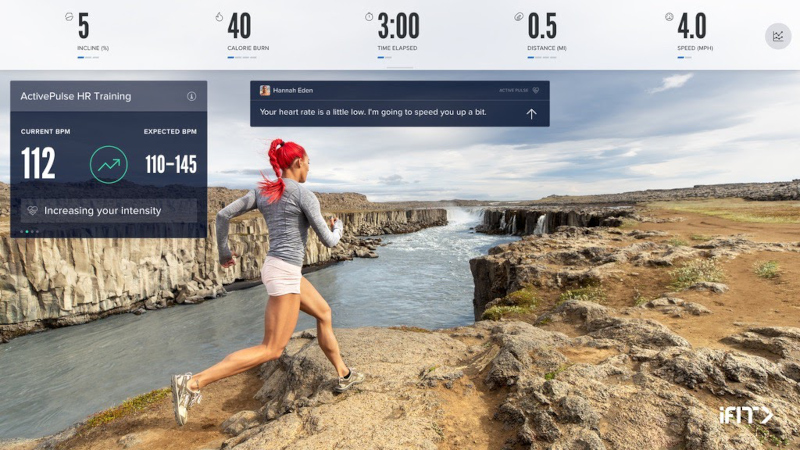 It doesn't matter if you're a dedicated fitness enthusiast or a beginner to the fitness realm, ActivePulse™ can be used and be beneficial for everyone.
As Dr. Aaron L. Baggish, the associate director of the Cardiovascular Performance Program at Harvard-affiliated Massachusetts General Hospital, comments to Harvard Health Publishing:
"Whether you're just getting started with an exercise routine or are a committed fitness enthusiast, tracking your heart rate can help you maintain the necessary moderate level of intensity for optimal benefits without worrying about doing too much or too little."
ActivePulse™ And Other Factors
As heart rate monitoring* can be a valuable tool for fitness, other factors such as hydration, sleep, and stress should also be taken into account as they also have a direct impact on your heart rate.
"ActivePulse™ lets each iFit customer's heart rate personalize their treadmill workout without the complicated calculations and constant manual monitoring that have long been associated with heart rate training. ActivePulse™ provides a workout that is catered not just to a member; it is catered to that member based on a range of factors today."

Mark Watterson, President of iFit
ActivePulse™ adds an additional layer of personalization by adjusting the intensity of any iFit workout to meet the user where they are physically. Including the involvement of advanced algorithms that gradually "learn" a user's unique behavioral patterns over time to ensure proper adjustments in future workouts.
iFit ActivePulse™ Compatibility
iFit ActivePulse™ is compatible with leading Bluetooth® heart rate monitors with broadcast functionality, including the iFit SmartBeat™ forearm heart rate monitor. As well as third-party devices from brands including Polar®, Garmin®, Wahoo®, and a number of WHOOP® products.
Included with all iFit memberships, ActivePulse™ will be available on all iFit-enabled ProForm bikes, rowers, and ellipticals via an automatic iFit software update.
Conclusion
Do your heart a favor and give it a little more attention with ActivePulse™. And don't forget to reevaluate your fitness goals because with various heart rate zones corresponding to fitness goals, heart rate training is widely accepted as an intelligent way to achieve consistent and measurable progress towards the improvement of health and fitness.
DISCLAIMER: This blog post is not intended to replace the advice of a medical professional. The above information should not be used to diagnose, treat, or prevent any disease or medical condition. Please consult your doctor before making any changes to your diet, sleep methods, daily activity, or fitness routine. ProForm assumes no responsibility for any personal injury or damage sustained by any recommendations, opinions, or advice given in this article. Always follow the safety precautions included in the owner's manual of your fitness equipment. Shipping times are dependent on in-stock inventory and delivery timeframes may vary. Make sure to check the website for any specific delays in delivery and shipping.
*Heart rate monitors used for exercise such as the wireless heart rate monitoring chest strap, grip sensors, or forearm monitors are not medical devices, and their accuracy may be affected by a number of factors. They are also not intended to diagnose, treat, cure, or prevent any disease. 
IFIT DISCLAIMER: iFit requires an internet connection and Wi-Fi to function.  You will be required to provide your credit card information upon sign-up for iFit. Your Commitment Period may be month-to-month or twelve (12), eighteen (18), or thirty-six (36) months, depending on your agreement. Terms shall apply to your iFit use and subscription during your Commitment Period and any subsequent Renewal Term. Unless you cancel your account or notify us at least twenty four (24) hours prior to the expiration of your commitment period that you do not wish to renew your subscription, your iFit subscription will automatically renew for an additional month, one (1) year, or two (2) year period, as applicable, for the same duration as your initial commitment period ("The Renewal Term"), and you authorize us to bill the then-applicable membership fee and any taxes to the payment method we have on record for you. 
Sources:
https://www.proform.com/blog/exercise-make-you-happier-healthier/
https://www.proform.com/blog/cardio-hiit-workout-costa-rica-with-ifit/
https://www.proform.com/blog/faq-studio-bike-pro-22/
https://www.health.harvard.edu/staying-healthy/rating-heart-monitors
https://www.proform.com/blog/recovery-advice-from-ifit-trainer-john-peel/
https://www.proform.com/blog/sleep-power-of-one-more-hour/
https://www.proform.com/blog/emotional-health/
https://www.proform.com/blog/beginners-guide-to-ifit/
https://www.proform.com/blog/10-minute-treadmill-workouts-for-beginners/