How To Use A Foam Roller Before And After A Workout
UPDATED, June 29, 2022
Did you know that a lightweight, foam roller can add great benefits to your workouts and even overall health and comfort? In fact, foam rollers have been scientifically studied to offer benefits similar to a deep tissue massage in a quick, portable, and convenient way. Below you'll see the benefits of foam rolling and how to do it safely and effectively.
Why Is Foam Rolling Good For You
When you use a foam roller before and after workouts, you increase blood circulation and loosen tight muscles and connecting tissues. In turn, you can enjoy the advantages of reduced pain and discomfort and improved performance.

For instance:

Improve Performance
Myofascial release refers to directing tissues and systems that have suffered from strains and injuries over time toward metabolic and morphologic improvement (2). The Journal of Strength and Conditioning Research published a study that discussed the positive impact of using foam rollers to release tension in these soft tissues (3). In turn, this therapy helps to restore muscle length-tension relationships and allow for a better warm-up routine before a workout. It can also help speed up recovery from injuries.
Lessen Recovery Time
Do post-workout muscle aches and fatigue make you hesitate to exercise to your full potential? If so, you should be interested in this report from the National Institute of Health (4). Benefits of foam rolling in a controlled study included reduced muscle tenderness and increased sprint times.
Reduce Painful Symptoms
According to other studies published by the National Institute of Health, systematic reviews found that foam roller use can help enhance range of motion and reduce pain after an intense bout of exercise, as well as relieve fibromyalgia symptoms (5, 6). 
You can enjoy these benefits if you use your roller with exercise or alone as a therapy.
How To Use Your Foam Roller
Typically, you will find the foam roller as simple to use as it looks. As with other exercise-related activities, it's important to learn the right techniques for foam rolling to maximize the benefits and reduce any chance of injury.

Take these new exercises slowly at first to make certain that you've perfected the form. Also, as with any new exercise routine, you should speak with your doctor about using foam rollers if you suffer from previous medical conditions or injuries.

You can pick and choose the foam rolling techniques that you feel comfortable doing and that are likely to benefit you. Get started by reviewing these popular warm-up and cool-down exercises for your foam roller:
Hamstring Stretch
Put the roller under your upper thigh and roll from the back of your knee to your upper hamstring. Hold the roller in position under tight spots for 30-45 seconds or until pain diminishes.
Shin Stretch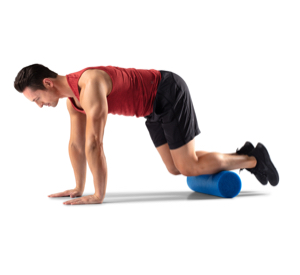 Begin on your hands and knees and place the foam roller under your shin area. Roll front to back to find tender areas. Hold tight spots for 30-45 seconds or until pain diminishes.
IT Band And TFL Stretch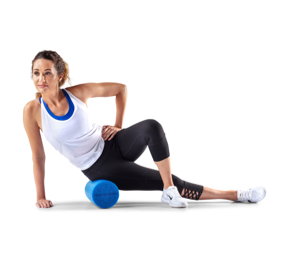 Brace yourself with your arm and other leg while you place the roller under your outer hip. Roll from the top of your outer hip, down your thigh, and to your knee. To intensify, stack legs on top of each other. Hold tight spots for 30-45 seconds or until pain diminishes.
Peroneals Stretch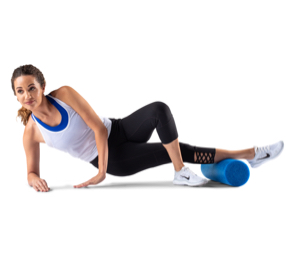 As with the exercise above, brace yourself with your arm and other leg as you place the roller on your outer shin right below the knee. Place your top leg in front for support. Roll back and forth from your knee to your ankle, holding tight spots for 30-45 seconds or until pain diminishes.
Hip Flexors
Lie on one side and brace yourself with your arms to place the roller under the top of your inner thighs. Roll slowly down to your hip pockets and hold tight spots for 30-45 seconds or until pain diminishes.

Hip Abduction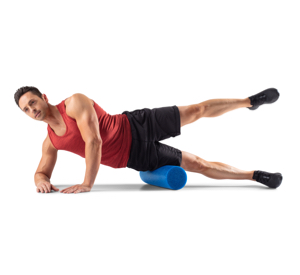 Lie down on your side with your outer hip balanced upon the foam roller. Support your upper body with the same-side forearm and your other hand placed in front of you on the ground for support. Lift your top leg up, foot flexed, and squeeze your outer leg. Lower your leg and repeat this motion before switching to the other side.
Bridge On Roller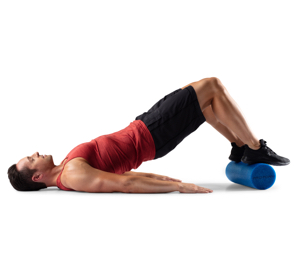 Start by resting on your back, face up with your knees bent and both feet on the roller. Rest your arms parallel to your body for support. Carefully raise your spine off the mat until you're in bridge position. Your body should be in a straight line from your knees to your head. Lower and repeat.
Upright Chest Stretch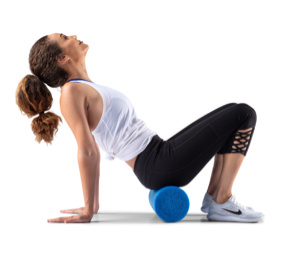 Put the roller perpendicular to your body. Sit on the foam roller with your knees bent, feet on the floor, and hands flat on the floor behind you. Stretch to arch your back and open your chest.
Spine And Chest Stretch
Lie down with the roller placed under your back, so it is vertical to your spine. Place your arms on the ground with your palms up. Rest your feet flat on the floor with your knees bent. Lower your elbows as far as you can to the ground. Hold the position for 30-45 seconds or until pain diminishes.
Spine Massage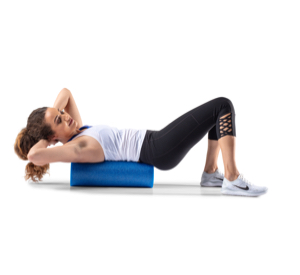 Lie down with the foam roller placed vertically to your spine. Rest your feet flat on the floor with your knees bent, and put your hands behind your head. Roll side to side slowly. Hold position on any tight spots for 30-45 seconds or until pain diminishes.
Teres Minor/Lat Stretch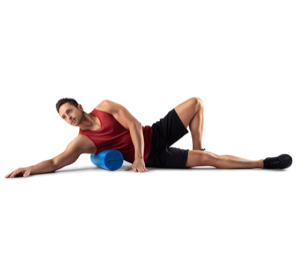 Lie down on one side with the roller under your outstretched arm, under your armpit. Slowly roll front to back and side to side. Hold tight spots for 30-45 seconds or until pain diminishes.
V Crunch With Rotation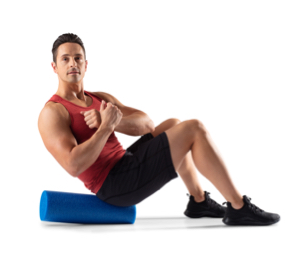 Sit on the middle roller with it positioned vertically to your body. Bend your knees and put your feet flat on the ground. Lean back a few degrees, drop your elbows to your side and rotate your torso.
Types Of Foam Rollers
Just as you should take care performing foam rolling properly, you should also carefully consider the kind of foam roller to buy.
Smooth Rollers
As an example, the ProForm Foam Roll has a smooth surface with no texture on the surface. It's made out of high-quality, high-density foam that makes it durable, lightweight, and naturally antimicrobial.
In particular, beginners should consider this kind of smooth foam roller because it's less intense, easier to get used to, rugged, and affordable.
Textured Rollers
You can find textured rollers with ridges or knobs. They will apply more pressure to work themselves deeply into soft tissue to work out knots. If you've never tried foam rolling, you should get used to a smooth roller first.
Foam-Covered Massage Sticks
These sticks have a smaller diameter than a typical roller and can help you massage your legs and upper back.. Generally, you hold these in your hands instead of resting on them.
Foam-Covered Massage Balls
You use these massage balls to relieve tension in targeted areas.
Is Foam Rolling Right For You
Foam rollers can help you warm up before a workout and cool down afterwards (3). Naturally, you should consider your physical condition before choosing any new kind of exercise equipment. You might also want to discuss foam rollers and your unique health conditions with your doctor. Otherwise, a foam roller can provide you with many of the benefits you might enjoy from a sports massage. Of course, you can use this more affordable alternative to massage at any time and from the comfort of your home.
This blog post is not intended to replace the advice of a medical professional. The above information should not be used to diagnose, treat, or prevent any disease or medical condition. Please consult your doctor before making any changes to your diet, sleep methods, daily activity, or fitness routine. ProForm assumes no responsibility for any personal injury or damage sustained by any recommendations, opinions, or advice given in this article. Always follow the safety precautions included in the owner's manual of your fitness equipment. Shipping times are dependent on in-stock inventory and delivery timeframes may vary. Make sure to check the website for any specific delays in delivery and shipping.
Sources:
https://www.semanticscholar.org/paper/The-basic-science-of-myofascial-release%3A-change-in-Barnes/2991382fbafc20226f09dbd9e4115458bb1d3be0
https://journals.lww.com/nsca-jscr/Fulltext/2014/01000/The_Effects_of_Myofascial_Release_With_Foam.8.aspx