9 Tips To Burn Maximum Calories on Your Elliptical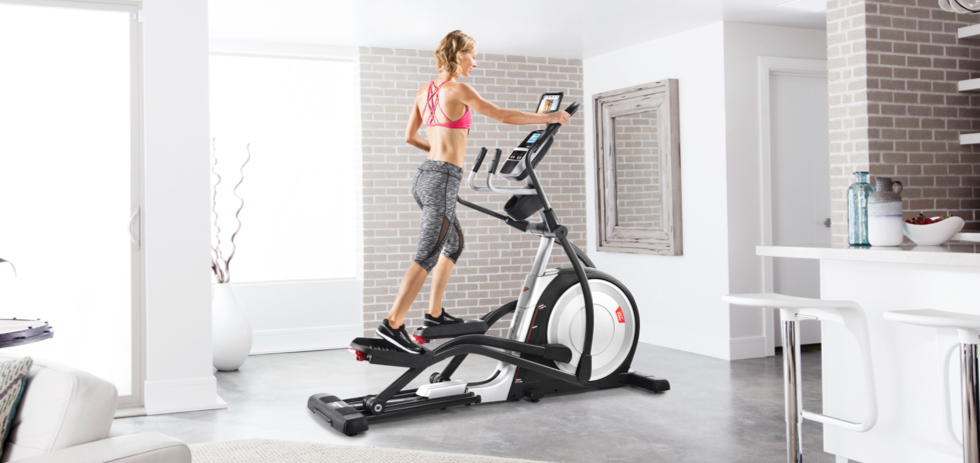 UPDATED, September 3, 2021
Research shows that a good way to lose weight is to burn more calories than you consume. According to the Mayo Clinic, a pound of fat equals about 3,500 calories. This means you would need to burn 500 to 1,000 calories more than you eat each day to lose 1 to 2 pounds each week. To help achieve this, using an elliptical can help get you to a calorie-burning phase and, if done properly, help you maximize the number of calories you burn in a single workout. As a matter of fact, riding an elliptical for only 30 minutes as a typical 155-pound person burns about 335 calories, according to Harvard Medical School.
So, to help you take advantage of burning calories without working out for hours on end, we're sharing 9 easy ways to burn more calories on your elliptical.

9 Easy Ways To Burn More Calories On Your Elliptical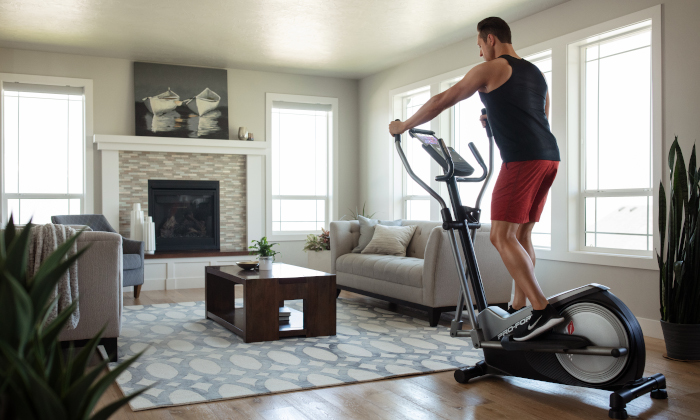 1. Increase The Incline Or Resistance
Increasing the incline or resistance of your elliptical makes your muscles work harder, which promotes calorie-burn as muscles use calories as fuel. Increasing the incline on an elliptical is like riding up a steeper hill, which causes your muscles to work significantly harder than working up a moderate incline. Changing the incline also targets different muscle groups to give you a whole-body workout.
Avoid adding too much resistance as excessive workload may actually prevent you from exercising at your capacity; compromising your form and efforts.
2. Change Motion
Try going in reverse now and then, and occasionally speed up or slow down your pace. For maximum variety, vary the length of your stride throughout your workouts.
3. Change Up The Pace
Research suggests that high-intensity interval training (HIIT) may burn more calories than other types of exercise. HIIT involves short bursts of intense physical activity followed by brief periods of rest or gentle activity. The American Council on Exercise (ACE) says that HIIT on an elliptical can even temporarily raise your metabolic rate so you can burn more calories during exercise and, for a short period, while you are at rest. ACE also says that doing HIIT on an elliptical may increase your excess post-exercise oxygen consumption, or EPOC, which means that your body may burn more calories, even for a short period after you have stopped exercising.
4. Get Your Heart Rate Up
Your heart rate is a good indicator of the intensity and calorie-burning potential of your exercise. The harder you exercise, the faster your heart rate, and the more calories you burn.
Your fat-burning heart rate is about 70 percent of your maximum heart rate, according to Healthline. Your maximum heart rate is how fast your heart should be beating when you exercise. You can calculate your maximum heart rate by subtracting your age from 220. If you are 35, for example, your maximum heart rate would be 185 and your fat-burning heart rate would be about 130 beats per minute.
5. Follow A Workout Program
Following a workout program can help you stay on track. The interactive training program, iFIT®, provides unlimited workout classes that help optimize the effects of your elliptical workout in the comfort of your own home. Using iFIT workout programs pushes you further with their personalized workouts, motivating professional trainers, mesmerizing destination workouts that'll help you set and surpass your calorie-burning goals.
Try iFIT for 30 Days*and check out the elliptical workout Colorado Mountaineering Series with iFIT trainer, Aron Ralston.
6. Put Your Legs Into It
Your muscles burn calories as you move. So, larger muscles, like those in your legs, can burn more calories. By taking your arms out of the equation and resting them on the handlebars, it will shift your weight onto your lower body––forcing your legs to work harder. In turn, this may increase the calorie burn.
7. Utilize The Handlebars To Work Upper Body
Get your arms involved in the action, so you're getting more of a full-body workout. The more muscle groups you can involve in a workout, the more calories you can burn.
8. Listen To Upbeat Music
Did you know that listening to music while working out can have a positive effect on your workout motivation? According to American Council of Exercise, music directly affects exercise motivation. So, opt for working out with lively music rather than exercising in silence.
9. Use Advanced Tools And Technologies Available To You
Depending on what elliptical you own, it may contain a number of pre-programmed tools and technologies that help you burn the most calories possible during your workouts. Be sure to enter your personal information into your elliptical to get an accurate reading of each workout you do.
Conclusion
Try incorporating these 9 tips into your elliptical workout routine and take note of how your fitness levels have been affected. Once you find your preferred workout style, maximize your calorie burn and have fun while you do it!
DISCLAIMER: This blog post is not intended to replace the advice of a medical professional. The above information should not be used to diagnose, treat, or prevent any disease or medical condition. Please consult your doctor before making any changes to your diet, sleep methods, daily activity, or fitness routine. ProForm assumes no responsibility for any personal injury or damage sustained by any recommendations, opinions, or advice given in this article. Always follow the safety precautions included in the owner's manual of your fitness equipment. Shipping times are dependent on in-stock inventory and delivery timeframes may vary. Make sure to check the website for any specific delays in delivery and shipping.
IFIT DISCLAIMER: *iFIT experience requires an internet connection and Wi-Fi to function. Credit Card required for activation. Membership auto-renews for a fee (starting at $15/mo.) plus tax, unless canceled in advance. Your Commitment Period may be month-to-month or twelve (12), eighteen (18), or thirty-six (36) months, depending on your agreement. Terms shall apply to your iFIT use and subscription during your Commitment Period and any subsequent Renewal Term. Unless you cancel your account or notify us at least twenty four (24) hours prior to the expiration of your commitment period that you do not wish to renew your subscription, your iFIT subscription will automatically renew for an additional month, one (1) year, or two (2) year period, as applicable, for the same duration as your initial commitment period ("The Renewal Term"), and you authorize us to bill the then-applicable membership fee and any taxes to the payment method we have on record for you.
Sources:
https://www.mayoclinic.org/healthy-lifestyle/weight-loss/in-depth/calories/art-20048065
https://www.proform.com/blog/frequently-asked-questions-endurance-720e-elliptical/
https://www.health.harvard.edu/diet-and-weight-loss/calories-burned-in-30-minutes-of-leisure-and-routine-activities
https://www.ncbi.nlm.nih.gov/pmc/articles/PMC2991639/
https://www.acefitness.org/education-and-resources/lifestyle/blog/3768/try-this-hiit-workout-on-the-elliptical-trainer
https://www.healthline.com/health/fitness-exercise/fat-burning-heart-rate
https://www.proform.com/blog/live-workouts-home-ifit/
https://elliptical.com/elliptical-workout-colorado-mountaineering-series-ifit/
https://www.youtube.com/watch?v=Z-MY8GL3SP8
https://www.acefitness.org/education-and-resources/lifestyle/blog/5763/music-and-exercise-how-music-affects-exercise-motivation/