At-Home Workout Moves Made Easy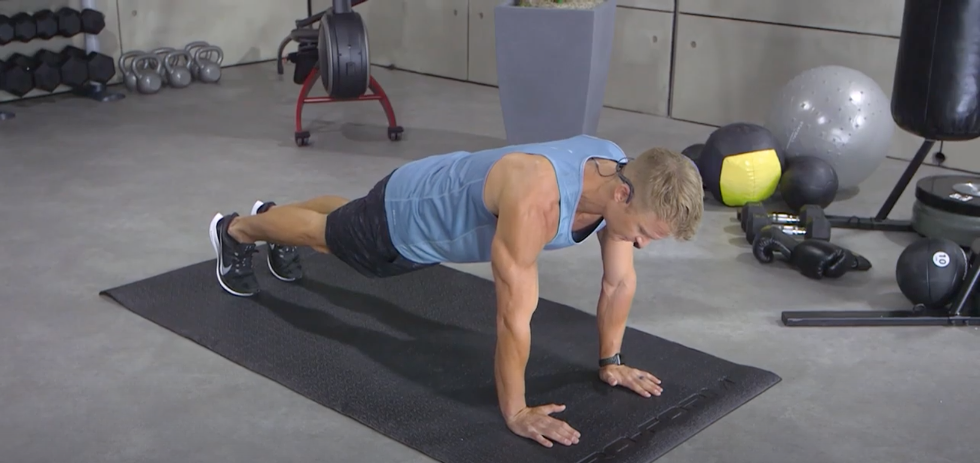 At-home workouts make it easy, convenient, and private for you––not to mention cost-effective––to exercise at home and build the healthy lifestyle you envision. Without having to rely on gym hours and equipment availability, you can easily follow the workout moves we've listed below with detailed instructions from our iFit trainers, so you can reap the full benefit of each workout move.

Beginner Workout Moves
Bicep Curl
Lunge
Plank
Up-Right Row
Intermediate Workout Moves
Squat
Bent-Over Row
Push-Up
Shoulder Press
Crunch
Advanced Workout Moves
Deadlift
Curtsy
Burpee
Side Plank
No matter what your fitness level is, these at-home workout moves can challenge you and help advance your fitness skills to the next level. To challenge yourself further, try this iFit workout in Costa Rica. Journey to the other side of the world as you workout!
DISCLAIMER: This post is not intended to replace the advice of a medical professional. The above information should not be used to diagnose, treat, or prevent any disease or medical condition. Please consult your doctor before making any changes to your diet, sleep methods, daily activity, or fitness routine. ProForm assumes no responsibility for any personal injury or damage sustained by any recommendations, opinions, or advice given in this article. Always follow the safety precautions included in the owner's manual of your fitness equipment. 
IFIT DISCLAIMER: iFit requires an internet connection and wifi to function.  You will be required to provide your credit card information upon sign-up for iFit. Your Commitment Period may be month-to-month or twelve (12), eighteen (18), or thirty-six (36) months, depending on your agreement. Terms shall apply to your iFit use and subscription during your Commitment Period and any subsequent Renewal Term. Unless you cancel your account or notify us at least twenty four (24) hours prior to the expiration of your commitment period that you do not wish to renew your subscription, your iFit subscription will automatically renew for an additional month, one (1) year, or two (2) year period, as applicable, for the same duration as your initial commitment period ("The Renewal Term"), and you authorize us to bill the then-applicable membership fee and any taxes to the payment method we have on record for you. 
Sources:
https://www.youtube.com/watch?v=F4rsNKwpT4Q&feature=youtu.be
https://www.youtube.com/watch?v=7fH52tBtAEE&feature=emb_title
https://www.youtube.com/watch?v=A05STijjqew&feature=emb_title
https://www.youtube.com/watch?v=0XelIO75Exs&feature=emb_title
https://www.youtube.com/watch?v=I_QJ5gvw6_k&feature=emb_title
https://www.youtube.com/watch?v=MPKCXhqjZJ4&feature=emb_title
https://www.youtube.com/watch?v=DrqIr2EjQz4&feature=emb_title
https://www.youtube.com/watch?v=1e3jpBrIt-0&feature=emb_title
https://www.youtube.com/watch?v=fwGdII4hzq0&feature=youtu.be
https://www.youtube.com/watch?v=xRfBiTjfCSM&feature=youtu.be
https://www.youtube.com/watch?v=XoNkkEoUTq4&feature=youtu.be
https://www.youtube.com/watch?v=aiExPnhw7gw&feature=emb_title
https://www.youtube.com/watch?v=xRKtd8Ie-fU&feature=emb_title
https://www.proform.com/blog/cardio-hiit-workout-costa-rica-with-ifit/