How This Ninja-Training Mother Of Two Gets Creative With Her Workouts
We all have our own reasons for being busy and "not having the time" to accomplish our workouts each day. However, this inspiring, ninja-training mom of two has made her health a priority in more ways than one. Afterall, her ability to cater to her health and fitness doesn't just benefit her, it benefits her family as well––providing her husband and kids with a happier and healthier mother.


To complement her training for American Ninja Warrior®, Charity Grace takes advantage of the endurance and cardio benefits of her Studio Bike Pro and HIIT Trainer Pro from ProForm. Staying on top of her training outside of her ninja-training gym allows her to stay on track with her fitness goals and to stay motivated.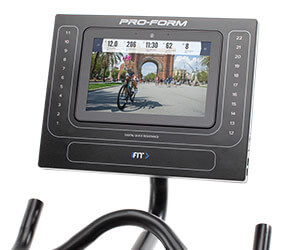 Switching up her workouts with iFit studio classes and destination workouts has given Charity full access to challenging workouts and have fun at the same time. Not to mention how incredibly convenient it is to fit in a workout in between mommy and wife duties with equipment at home.

The ability to easily incorporate the Studio Bike Pro and HIIT Trainer into her ninja-training has been convenient and completely stress-free for Charity––even down to the simpleness of choosing what workout to do for the day. iFit takes out the guesswork and makes it easy for its members!

Considering Charity's elite athletic abilities, she is continuously challenged by the iFit Sagrada Familia Ride in Spain with iFit trainer, Heather Jenson, and the studio-based Strong & Lean Series, Workout #1, with iFit trainer, Gideon Akande.

If you want to see what kind of workout Charity utilizes to stay in shape in between ninja-training sessions, you can access these specific workouts through your iFit membership account.

Watch Charity's review of her Studio Bike Pro and HIIT Trainer as she describes her favorite workouts, the convenience of having her workout equipment so readily available at home, and just how these two sleekly-designed pieces of equipment have completely complemented her fitness and her home.

To learn more about Charity's home gym equipment, check out these 6 reasons why a Studio Bike is a must-have, and how members are loving cardio again with the HIIT Trainer Pro.
DISCLAIMER: This post is not intended to replace the advice of a medical professional. The above information should not be used to diagnose, treat, or prevent any disease or medical condition. Please consult your doctor before making any changes to your diet, sleep methods, daily activity, or fitness routine. ProForm assumes no responsibility for any personal injury or damage sustained by any recommendations, opinions, or advice given in this article. Always follow the safety precautions included in the owner's manual of your fitness equipment. Charity Grace was compensated with a treadmill for her honest review. Opinions are solely those of the individual, and may or may not be shared by ProForm.
IFIT DISCLAIMER: iFit requires an internet connection and wifi to function.  You will be required to provide your credit card information upon sign-up for iFit. Your Commitment Period may be month-to-month or twelve (12), eighteen (18), or thirty-six (36) months, depending on your agreement. Terms shall apply to your iFit use and subscription during your Commitment Period and any subsequent Renewal Term. Unless you cancel your account or notify us at least twenty four (24) hours prior to the expiration of your commitment period that you do not wish to renew your subscription, your iFit subscription will automatically renew for an additional month, one (1) year, or two (2) year period, as applicable, for the same duration as your initial commitment period ("The Renewal Term"), and you authorize us to bill the then-applicable membership fee and any taxes to the payment method we have on record for you. 
Sources:
https://digitalcommons.wku.edu/ijes/vol12/iss2/21/
https://www.proform.com/exercise-bikes/studio-bike-pro
https://www.proform.com/hiit-trainers/cardio-hiit-trainer-pro
https://www.ifit.com/workout/5d8e2946443b8a03f072f2dc
https://www.ifit.com/workout/5d641fdfc48fab0932bf61aa
https://www.proform.com/blog/why-the-studio-bike-limited-is-a-must-have/
https://www.proform.com/blog/ifit-members-loving-cardio-with-hiit-trainer-pro/