Virtually Race The Tour De France® With ProForm And iFit
iFit® is now streaming an exclusive Tour de France® workout series in celebration of the 107th edition of the race. Because of iFit's partnership with Google Maps®, iFit members can virtually ride all 21 stages of the 2020 Tour de France® course in a whopping 112-part iFit Google Maps® series on their ProForm machine. 
"The Tour de France® is arguably the most iconic and exclusive cycling race in the world. Now, combined with iFit's leaderboard feature, members can challenge their friends and family to friendly competition in their very own Tour de France® race."

Mark Watterson, Director of iFit
Feel a sense of camaraderie and participation in the annual excitement that surrounds the Tour de France® as you take in all the beautiful Google Street View® scenery, and break a sweat in the life-like recreation of the tour. iFit surely didn't hold back!
About The iFit And Tour de France® Race
The iFit and Tour de France® series includes all 21 stages of the race, with a total distance of 2,220.5 miles (3573.54 km) broken down into 112 workouts, so you're able to ride at your own pace. The race route begins in Nice and ends in Paris, with a total of six regions and 32 departments travelled through by the race's conclusion. Additionally, you can look forward to riding through the five mountain ranges of France: the Alps, Massif Central, Pyrenees, Jura and Vosges.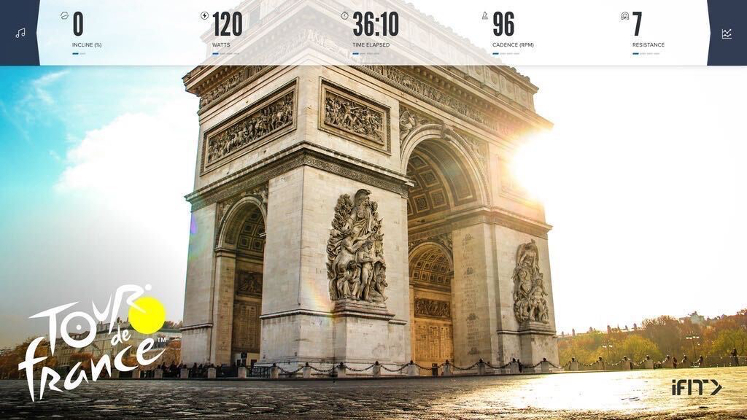 Just like other workouts you may have experienced on ProForm® and iFit, your incline, decline, and resistance will automatically be adjusted to reflect the natural grade of the road that you are virtually riding on, so you can merely focus on the race and scenic views. The Tour de France's® steepest grade is around 12%, which your ProForm machine will automatically change its incline to this extremely challenging angle—-making for an even more transportive and true-to-life experience. 
If the automatic adjustment levels sound too challenging, you choose to make resistance and incline adjustments manually. That way you can continue to race at your own pace.
Getting Started
To get started, access the iFit and Tour de France® Part 1 and Part 2 on your machine. And if you don't have access to your ProForm machine, you can simply download the iFit app in the Apple Store® or Google Play®. For those of you who are new to the game, download the iFit app and sign up for the 30-day free trial, then place your smartphone on your machine and follow along. Or cast from your smartphone via Apple TV® or Google Chromecast® for an even more immersive experience.
Conclusion
Don't let our current circumstances stop you from participating in and exploring the Tour de France® this year. ProForm and iFit is here to help you continue with your fitness journey and overall experiences.
And once you've joined the iFit and Tour de France® series, be sure to share with us what you like most about the series in the comment section below!
DISCLAIMER: This post is not intended to replace the advice of a medical professional. The above information should not be used to diagnose, treat, or prevent any disease or medical condition. Please consult your doctor before making any changes to your diet, sleep methods, daily activity, or fitness routine. ProForm assumes no responsibility for any personal injury or damage sustained by any recommendations, opinions, or advice given in this article. Always follow the safety precautions included in the owner's manual of your fitness equipment. 
IFIT DISCLAIMER: iFit requires an internet connection and Wi-Fi to function. You will be required to provide your credit card information upon sign-up for iFit. Your Commitment Period may be month-to-month or twelve (12), eighteen (18), or thirty-six (36) months, depending on your agreement. Terms shall apply to your iFit use and subscription during your Commitment Period and any subsequent Renewal Term. Unless you cancel your account or notify us at least twenty four (24) hours prior to the expiration of your commitment period that you do not wish to renew your subscription, your iFit subscription will automatically renew for an additional month, one (1) year, or two (2) year period, as applicable, for the same duration as your initial commitment period ("The Renewal Term"), and you authorize us to bill the then-applicable membership fee and any taxes to the payment method we have on record for you. 
Sources:
https://www.proform.com/blog/beginners-guide-to-ifit/
https://www.proform.com/blog/studio-bike-pro-first-impression-brittany/
https://www.proform.com/blog/cardio-hiit-workout-costa-rica-with-ifit/
https://www.ifit.com/library/programDetails/5f441c94b89873003370c8ad
https://www.ifit.com/library/programDetails/5f46958a8b2789003058e9a4
https://apps.apple.com/us/app/ifit-at-home-fitness-plans/id1274601042
https://play.google.com/store/apps/details?id=com.ifit.wolf&hl=en_US
https://www.proform.com/blog/stay-sane-quarantine/