The SMART Pro 5000 Is The Best Treadmill For People Who Hate The Gym
If you're anything like me, you love to work out. Ever since middle school, where I joined the track team my first year, I've been dedicated to exercising and staying in shape. There's nothing quite like the feeling you get after a really good workout.


As I've gotten older however, I've realized that I really don't enjoy going to the gym as much as I did in high school and college. Back then my friends and I would compete to see who could bench press more, we'd check out the scene, we'd joke around and make plans to go out later…it was an enjoyable experience. Fast forward to today, and it's just not as much fun as it used to be.


Nowadays, I do most of my indoor workouts at home on my ProForm SMART Pro 5000 treadmill. Let me tell you why.




The Drawbacks Of Working Out In A Public Gym

The reason that I prefer a home workout these days is because the drawbacks of a public gym far outweigh the benefits. Sure, you can lift weights, run, take classes and perhaps even swim or play racquetball. But the benefits really stop there.

Let's take a look at some of the reasons why I prefer to workout at home:

1. The Crowds
Unless you go really early in the morning or really late at night, chances are you have to deal with crowds, especially at smaller gyms. That means you may not be able to use your favorite equipment, or at the very least have to wait your turn. Sometimes it's good to rest in between sets, but if you wait too long for the machine you want to become available your muscles get cold, which is not necessarily a good thing. Add to that the struggle to find a parking spot or an open locker and it becomes a real nuisance overall.

2. Time Consuming
When you're younger, you have all the time in the world, so spending 2-3 hours working out and driving back and forth to the gym is no big deal. That's just not the case when you get older. You have more responsibilities and time is precious. Think about how long it takes you to get ready, arrange for someone to watch the kids if you don't take them with you, drive to the gym, find a spot, find a locker, do a full workout, go back to the locker room, leave the gym and fight traffic to get home. In many cases you're forced to do an abbreviated workout because you simply don't have enough time!

3. High Costs
There are a lot of expenses when it comes to the gym. On top of the cost of a membership, which can be upwards of $150 a month at some of the higher-end health clubs, you also have to factor in gym clothes, workout bag, gloves/grips and anything else that you need for the gym. Then there's the cost for personal training, which can really add up, or classes if they're not free at your gym. If there's no child center, add to that the cost of babysitting. You can see just how expensive it can be to join a gym.

4. Other Drawbacks
The crowds, the time and the added expenses are just the tip of the iceberg. The gym might not even have the equipment that you like to use or have low quality/old machines. Space might be tight in the free weight area or it may be tough to snag a treadmill, elliptical or other cardio machine. There's also the lack of privacy, the loud music and the ever-present lack of gym etiquette that we've all encountered at one point or another.

So, what's the solution? For me it's my ProForm SMART Pro 5000 treadmill. It allows me to avoid all of the annoyances of the gym and brings home everything I need for a great workout.




The ProForm SMART Pro 5000 Treadmill

You may be wondering, "How does a treadmill take the place of a gym membership?" Let me tell you how.

If you haven't been on a treadmill in a while, you're probably not aware of just how far they have come in the last five or so years. And although there are a lot of great options out there, you won't find anything as technologically advanced as ProForm treadmills, especially their awesome Pro Series. The experience goes well beyond just walking and running…it's a total wellness solution to get you into the best shape of your life.

Here are just some of the many benefits of the SMART Pro 5000…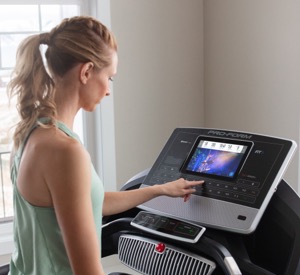 1. High Quality
ProForm treadmills are built strong and durable, so they stand up to even the heaviest of workouts. You can be confident that they will give you years of use with little maintenance required.
ProForm treadmills come with iFit, one of the most comprehensive fitness and wellness programs on the market today.  You can tap into an endless library of workouts led by experienced and enthusiastic personal trainers; you can choose a location anywhere in the world with Google Maps™ and it's as if you are actually there in person; you can access nutrition and sleep recommendations; you can track and share your workouts; you can join the iFit community and interact with other fitness enthusiasts.  There's really nothing like it.

3. Low Costs
In spite of all of the advanced features and capabilities, the Pro 5000 is very affordable, especially compared to some of the other brands out there.  iFit is actually included for one full year with the purchase of the Pro 5000 treadmill, and then after that it's just a nominal monthly fee that's less than the cost of most gym memberships.  Plus, no need for expensive personal trainer fees, fancy gym clothes, babysitters or anything else that comes with being a gym member.

4. Features and Capabilities
In addition to iFit, which gives you so many workout options on as well as off the treadmill, you also get 50 built-in workout programs, including hills, distance, intervals, weight loss and more. You get an incline range up to 15% and even decline to 3%, something you simply don't find even on the best treadmills these days. There's a strong, capable motor, speeds up to 12 mph, a 10" Smart HD touchscreen, large running deck with advanced cushioning…the list goes on and on.


For me, I'm getting all of the benefits that I used to get at the gym in the convenience of my own home. I can start working out within minutes rather than driving to the health club. I can access a new personal trainer every day essentially for free, instead of paying the same trainer per hour at the gym. Not only can I do running workouts but also strength training, yoga, kickboxing, HIIT and more. I also get sleep tracking, meal plans and all the motivation I need from the trainers and the iFit community. Plus, there's no crowds, no waiting for equipment, no blaring music, no gym rules and regulations…just me and my ProForm SMART Pro 5000 treadmill!


So, if you're like me, and you just hate going to the gym for one reason or another, do yourself a favor and check out the SMART Pro 5000 treadmill. It's an incredible machine that gives you all of the tools you need to lose weight, boost your cardio, build strength, increase energy. Whatever your fitness goals are, you can achieve them with the SMART Pro 5000 treadmill.
Author: David Bloom
David Bloom is an avid runner and fitness enthusiast who has been reviewing treadmills and other cardio equipment since 2006. He is a regular contributor to many well-regarded health and exercise websites.
DISCLAIMER: This post is not intended to replace the advice of a medical professional. The above information should not be used to diagnose, treat, or prevent any disease or medical condition. Please consult your doctor before making any changes to your diet, sleep methods, daily activity, or fitness routine. ProForm assumes no responsibility for any personal injury or damage sustained by any recommendations, opinions, or advice given in this article. Always follow the safety precautions included in the owner's manual of your fitness equipment.
IFIT DISCLAIMER: iFit requires an internet connection and wifi to function.  You will be required to provide your credit card information upon sign up for iFit. Your Commitment Period may be month-to-month or twelve (12), eighteen (18), or thirty-six (36) months, depending on your agreement. Terms shall apply to your iFit use and subscription during your Commitment Period and any subsequent Renewal Term. Unless you cancel your account or notify us at least twenty four (24) hours prior to the expiration of your commitment period that you do not wish to renew your subscription, your iFit subscription will automatically renew for an additional month, one (1) year, or two (2) year period, as applicable, for the same duration as your initial commitment period ("The Renewal Term"), and you authorize us to bill the then-applicable membership fee and any taxes to the payment method we have on record for you.
Sources:
https://www.proform.com/treadmills/pro5000
https://www.runreviews.com/proform-treadmills/
https://www.proform.com/blog/beginners-guide-to-ifit/
https://www.treadmilltalk.com/best-treadmill.html