Best HIIT Workout At Home For Beginners
For people who want to get in shape, finding routines that they can fit into their schedules while still producing results can be a challenge, but it's not impossible. Here is what you should know about a HIIT workout, and how it might be the answer you were seeking.
But first, what is HIIT?
HIIT stands for high-intensity interval training and refers to a type of exercise where you give 100% effort for short bursts of time. Workouts typically incorporate both high-intensity exercises and some medium-intensity exercises.
The routines' design causes the body to require a lot of oxygen. This makes it a fantastic way to get in shape for people of all athletic levels. Those who have not been working out regularly may need to start at a lower level of intensity at first and work up to the high-intensity the program calls for.
How has HIIT gotten so popular?
A HIIT workout has the power to produce fantastic results for people, which has contributed considerably to its growing popularity. Studies have looked at its capacity to improve health and fitness. Harvard Men's Health Watch has found that just a 20-minute workout three times a week can improve heart health. It also found that a 15 to 20-minute HIIT workout can produce the same benefits for the heart and cardiovascular system as a 30-minute workout done at a more moderate pace.
Overall, HIIT workouts have been linked to a number of health benefits which include:
Improving blood pressure and heart rate

Improving metabolism

Helping people lose fat

Improve oxygen consumption

Reducing blood sugar levels
What draws many people to HIIT over the other types of exercise is also the rapid rate of results. Since HIIT workouts start producing quality results quickly, it helps people feel encouraged in their exercise program and to stay on track.
In addition to the strong results produced by the routine, people also like it because they can do the exercises wherever they happen to be. If they want to do a HIIT workout at a gym, they can complete the routine independently. If they do not have a gym, they can also easily workout in their living room.
Why does HIIT torch more calories in less time than other exercises?
When people do a HIIT workout, they create an oxygen shortage in their body. The body's attempt to replenish these stores cause calorie-burn both during the workout itself, and during the recovery period.
How do I design a HIIT workout?
Before you begin your HIIT workout, remember to start with a warm-up. Since you will be pushing your body as hard as you can, taking 5 to 10 minutes to go through a warm-up to get your body ready can make a difference in terms of potential injuries as well as performance.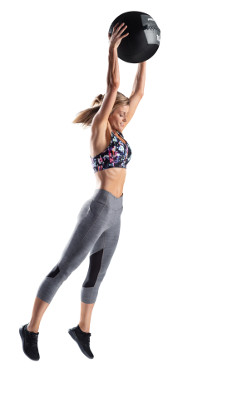 When designing a HIIT workout, remember that the most important features are the portions of high-intensity exercise. During this period, you need to give one hundred percent to the activity at hand. It is when you push your body to this level that you achieve the benefits of the workout style. You need to make sure that you go beyond the upper aerobic zone to really create that oxygen deficit and to force your body to see what it can truly accomplish.
As you design your workout, remember that the movements do not need to be complex. The focus lies instead in the level of intensity. In between the exercises, you do want to give your body a chance to recover with some rest, generally about 30 seconds to one minute.
To help you take your fitness regime to the next level, use an iFit®. This program helps you track and plan your fitness routines and gives you access to your very own personal trainer. It also combines your exercise efforts with nutrition and sleep tracking to help you get the most out of your healthier lifestyle.
HIIT Workouts To Try
Here is a sample HIIT workout you can try at home on your treadmill:
HIIT Workout #1:
Warm-Up:
Warm-up will take about 5 minutes.
Begin by marching in place for 45 seconds, using exaggerated motions to stretch out your legs and get them ready to work.
Rest for 15 seconds.
Do 50 jumping jacks with moderate intensity.
Rest for 15 seconds – you are now ready to begin.
Workout:
Each round will take about 3 minutes. Repeat 3 rounds.
Start on the floor and do 10 sit ups.
Flip over on your stomach and do 10 push ups.
Stand up and do 15 squat jumps. To do this move correctly, stand with your legs shoulder width apart.
Lower yourself into a squat, ensuring that your knees do not go over your toes. Then, leap upwards as high as you can go.
Rest for 30 seconds.
When you are just getting started with HIIT routines, you may need to increase your rest time to 60 seconds.
HIIT Workout #2 (on your ProForm treadmill):
Warm-Up:
Warm-up will take about 5 minutes.
Hop on the treadmill and begin with a 5-minute warm-up at an aerobic pace. This should be a jog that you could sustain for a while with a light sweat.
Workout:
Each round will take about 3 minutes. Repeat 3 rounds.
Increase your speed until you reach your HIIT speed. This should be a speed that you feel as though you cannot physically sustain for more than 1 minute. Sprint at this pace for 1 minute.
Slow down again to your aerobic pace for 30 seconds.
Speed up your treadmill to a pace that is .3 mph slower than your full HIIT speed, and increase your incline by 1.5%. Sprint at this setting for 1 minute.
Slow down to your aerobic pace for 30 seconds.
Cooldown for 1 minute.
HIIT routines can help people of all fitness levels improve their health and their strength. Since they can produce incredible benefits in a short amount of time, they can also empower people to get in shape without a massive time commitment. See how you can add one of these workouts to your routine and start to receive the benefits of high-intensity interval training.
DISCLAIMER: This post is not intended to replace the advice of a medical professional. The above information should not be used to diagnose, treat, or prevent any disease or medical condition. Please consult your doctor before making any changes to your diet, sleep methods, daily activity, or fitness routine. ProForm assumes no responsibility for any personal injury or damage sustained by any recommendations, opinions, or advice given in this article.
Sources:
https://www.healthline.com/nutrition/benefits-of-hiit
https://www.health.harvard.edu/exercise-and-fitness/interval-training-for-a-stronger-heart
https://www.ncbi.nlm.nih.gov/pubmed/14599232
https://www.mayoclinic.org/healthy-lifestyle/fitness/in-depth/exercise/art-20045517
https://www.proform.com/blog/beginners-guide-to-ifit/