Featuring Hannah Eden For Women's History Month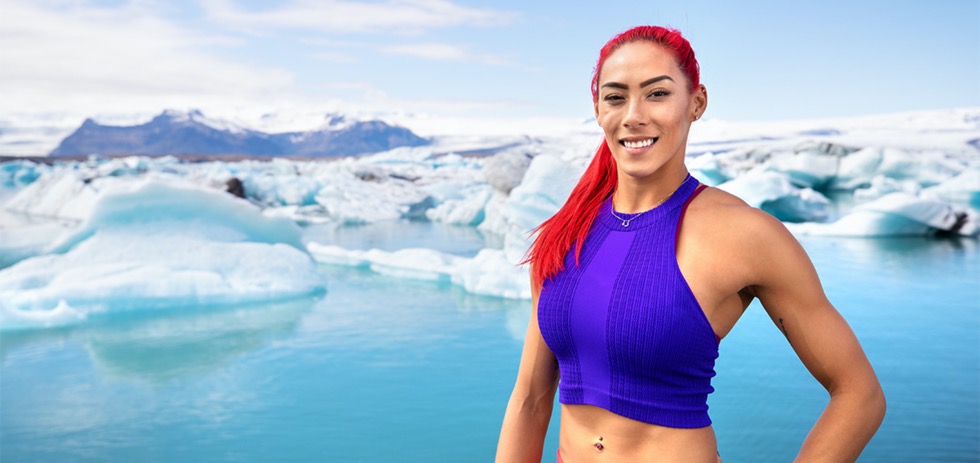 This week of Women's History Month, we're highlighting Hannah Eden. Hannah's captivating energy and positive attitude makes it easy to understand why so many iFit® members are drawn to her workout programs on iFit. And with her unique approach to training, there's no better way to reach your fitness goals sooner with one of her HIIT workouts or strength training sessions. However, there is much more to Hannah than her killer workouts. Read on.

Hannah Eden
For years, Hannah has worked on her craft as a coach and CrossFit® athlete. In 2014, she began competing at an elite level, becoming one of the Top 100 Fittest Women in the Southeast Region of the U.S. Shortly after, she started PumpFit Club––a boutique, upscale facility that hosts group sessions with a unique approach to HIIT training. That experience, combined with her knowledge in free-weight training and olympic lifting, is what makes Hannah one of the top fitness leaders today. You can expect her workouts to be a little wild, sometimes inappropriate, and always a good sweat.
On a deeper note, watch Hannah's experience in Iceland below as she challenges herself and pushes her own limits to bring awareness to an important cause that is close and dear to her heart.
Work out With Hannah On iFit
The thing with Hannah is that she gives 110% to every single workout and she exuberates that kind of motivation into her iFit workouts. She's not just instructing you, she's joining you on your fitness journey. See yourself:
Explore Hannah's challenging workouts for yourself and learn all about the marvelous locations that she takes you with iFit.
Hannah, along with Jonnie Gale, will coach you through 18 workouts over the span of 6 weeks. You'll focus on strength while soaking up the untouched beauty of Iceland as you work out.
This is Hannah's beginner to intermediate program where you'll complete 4 workouts a week for 4 weeks. Hannah will coach you through interval and endurance walks, steep incline hikes with recovery walks, and mobility stretches at the end of each week. Along the way, you'll experience beautiful sights, including Chilata Lake, Tunupa Salt Flats, Puritama Hot Springs, and Kasiri Lagoon.
Hannah Eden and husband, Paulo Barreto, will coach you over the next 6 weeks with 4 workouts each week. Each day during the week you will alternate between a run and a strength workout. Paulo will lead you through endurance, interval, and fartlek-based runs, while Hannah will tackle your total-body strength workouts on alternating days.
Hannah's iFit Live Schedule
Don't forget to check Hannah's iFit Live Schedule this week! Hannah has the energy you need to power you through your week with a workout. Her Live Schedule for the third week of March is: 
THURSDAY, March 18th
12:00 pm – Carvoeiro Endurance Run, Portugal; 30:21 minutes
FRIDAY, March 19th
12:00 pm – Chefchaouen Steady State Run, Morocco; 28:29 minutes
TUESDAY, March 23rd
12:00 pm – Fez Medina Tempo Run, Morocco; 28:25 minutes
Stay Accountable With Hannah
For when your motivation takes a little dip in the middle of the week, give yourself a quick reminder why you keep pushing forward even when we don't feel like it. Stay accountable with adding Hannah's wallpaper to your mobile, tablet, or desktop because little reminders can go a long way even when you least expect it.
Download your wallpaper below:
Mobile Android Wallpaper
Mobile Apple Wallpaper
Tablet Wallpaper
Desktop Wallpaper
Conclusion
With so much uncertainty in life, at least you can count on Hannah to show up and give you that much-needed motivation to stay on track with your goals, be it with your fitness or life goals in general. She's that positive influence that we all need, and we're so happy to have Hannah Eden on our team!
DISCLAIMER: This blog post is not intended to replace the advice of a medical professional. The above information should not be used to diagnose, treat, or prevent any disease or medical condition. Please consult your doctor before making any changes to your diet, sleep methods, daily activity, or fitness routine. ProForm assumes no responsibility for any personal injury or damage sustained by any recommendations, opinions, or advice given in this article. Always follow the safety precautions included in the owner's manual of your fitness equipment. Shipping times are dependent on in-stock inventory and delivery timeframes may vary. Make sure to check the website for any specific delays in delivery and shipping.
IFIT DISCLAIMER: iFit requires an internet connection and Wi-Fi to function.  You will be required to provide your credit card information upon sign-up for iFit. Your Commitment Period may be month-to-month or twelve (12), eighteen (18), or thirty-six (36) months, depending on your agreement. Terms shall apply to your iFit use and subscription during your Commitment Period and any subsequent Renewal Term. Unless you cancel your account or notify us at least twenty four (24) hours prior to the expiration of your commitment period that you do not wish to renew your subscription, your iFit subscription will automatically renew for an additional month, one (1) year, or two (2) year period, as applicable, for the same duration as your initial commitment period ("The Renewal Term"), and you authorize us to bill the then-applicable membership fee and any taxes to the payment method we have on record for you. 
Sources:
https://www.proform.com/blog/womens-history-month-betina-gozo/
https://www.proform.com/blog/beginners-guide-to-ifit/
https://www.youtube.com/watch?v=a8Fk_SGENKY&t=1s
https://www.youtube.com/watch?v=Q7nckJVfgCQ
https://www.ifit.com/library/programDetails/5ee7ca3f04dbba00b13cae67/iceland_strength_series
https://www.ifit.com/library/programDetails/5dded9d6501bd70079875327/bolivia_train_to_terrain_series
https://www.ifit.com/library/programDetails/5cf00f0225793b002da14a6b/iberian_total_body_training_series
https://www.ifit.com/live-schedule
https://blog.ifit.com/wp-content/uploads/2020/09/HE-new-mobile.png
https://blog.ifit.com/wp-content/uploads/2019/09/HE_Mobile.png
https://blog.ifit.com/wp-content/uploads/2020/09/HE-new-mobile-apple@2x.png
https://blog.ifit.com/wp-content/uploads/2019/09/HE_Apple_mobile@2x.png
https://blog.ifit.com/wp-content/uploads/2020/09/HE-NEW-talet-1536×1063.png
https://blog.ifit.com/wp-content/uploads/2019/09/HE_Tablet-1.png
https://blog.ifit.com/wp-content/uploads/2020/09/HE-new-desktop.png
https://blog.ifit.com/wp-content/uploads/2013/09/HE_Desktop.png